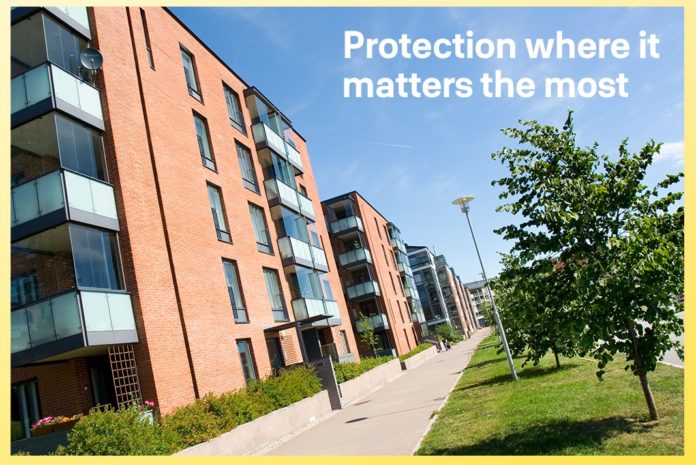 Fire Door Safety Week begins today (20 September) and the door hardware security brand Yale is supporting it, for the fifth year running, underlining the company's commitment to fire door safety and security. Fire Door Safety Week continues until Sunday (26 September).
The annual campaign raises awareness of the critical role that fire doors play in saving lives and protecting property. It draws attention to specific issues such as poor installation and maintenance, aiming to engage and educate specifiers, building owners and the public on fire door safety.
Fire doors are one of the most fundamental elements of a building's passive fire protection. They act as the first line of defence in a fire and provide those vital minutes for occupants to evacuate the building safely. In addition, they must provide the required level of security for the building in which they are installed.
Yale has long been committed to working with fire-door-accredited companies and investing in testing to ensure that fire doors meet test requirements. An example of this is the company's partnership with Falcon Panel Products, a UK market leader for certified timber doorset components and timber panels, which has opted to take the full range of Yale hardware on its new Stredor external doorset system.
The Stredor doorset range features the Yale Lockmaster AutoEngage multi-point lock, designed to achieve PAS 24:2016, FD30 and FD60 when tested as part of a door assembly and tested to exceed 100,000 cycles – the equivalent of 34 years' operation. Adding security to fire safety, the range also includes the Yale Platinum three-star Euro cylinder, which has been approved to TS007:2014 and SS312 Diamond Standard and is endorsed by the police-preferred Secured by Design scheme, and the Yale Postmaster Professional FD letterplate, which features an inner flap with a positive stop feature to guard against common attack methods and 'fishing'.
Brett Evans, Yale DWS' technical director for door hardware, said: "We are extremely proud of our suite of hardware for fire doors. Each product in the range can make a huge difference to the effectiveness of a fire doorset, and provides the outstanding security features you would expect from Yale.
"Fire door safety is a huge priority for us. We are constantly investing in our team, to ensure that we can offer the correct guidance on fire safety – for example, by arranging for our employees to complete fire door diploma courses. That's why we support Fire Door Safety Week every year, as, highlighting the issues surrounding fire door safety is so important for our industry and society."
To find out more about Yale's full range of fire door safety products, including its FD60 doorset range, visit www.yaledws.co.uk or call 01902 366 800. For product information and updates, follow @YaleDWS on Twitter.