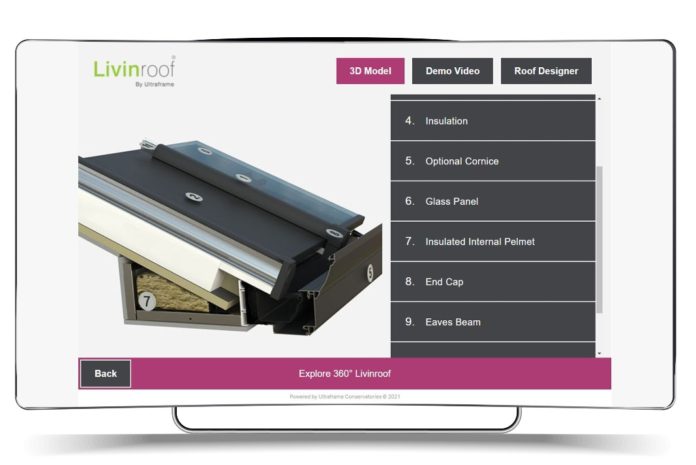 Roof and conservatory systems manufacturer Ultraframe has announced the launch of a series of high-tech digital samples for its range of conservatory and extension roofing systems. The samples allow users to explore the detail of a roof system, just as they would if handling a physical sample.
Explaining further about the latest enhancement to the company's marketing offering, Alex Hewitt, Ultraframe's marketing director, said: "While traditional samples undoubtedly remain popular, they take up a huge amount of space in showrooms and cars, and take a substantial resource to produce. While we will continue to produce a smaller number of physical samples for our customers, we're delighted to offer the 2021 solution to showing off the finer details of our systems, with our new digital samples.
"Working with our online partner, ICAAL, we will roll out the digital samples to our customers. This will include ensuring our customers can use them on iPads, for selling in the home and showroom, as well as on touchscreens in showrooms – which we can assist with sourcing if needed. Customers simply choose which digital samples they require from our many roofing systems, and offer a fast, simple solution to allow their customers to explore components and cross sections in detail."
Users of the new digital samples will be able to click on their chosen sample and then rotate and view it in full 360°, as well as read information about key components as well as explanations of key features and benefits. The digital samples will be automatically updated whenever there are enhancements to a system, so that customers will not need to replace the software – it will all be done for them.
Ultraframe customers can access digital samples via the Cuckoo online marketing system or by speaking to the Ultraframe marketing team. There is the option to personalise each sample with business-specific branding too.
The samples can be used on websites as well as on iPads and touchscreens, and the new samples are available for all of Ultraframe's systems, including its glass roof, Ultrasky, Ultraroof and Livinroof. Concluding, Alex said: "Innovation is at the heart of everything we do at Ultraframe, and this applies to our marketing support as well as our product range.
"We believe that our new digital samples will allow far more stakeholders to see the intimate details of our products – and of course, give many salespeople their car boot space back!" To find out more, contact the Ultraframe marketing team by emailing marketing@ultraframe.co.uk, or call 01200 443 311.