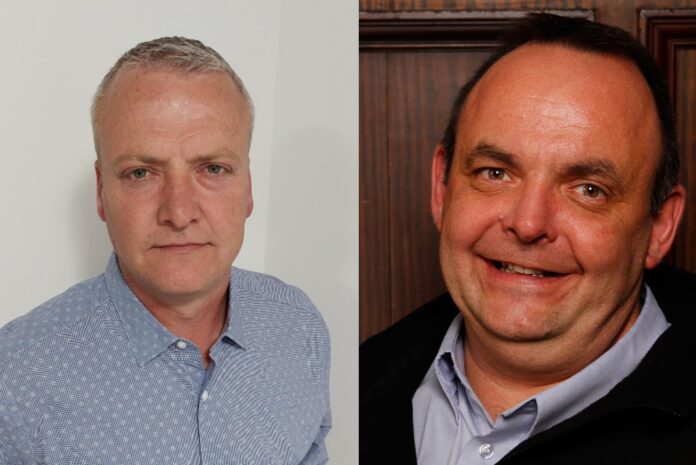 Cornwall Glass Manufacturing has promoted two members of its team to board level, Steve Bunney and Steven Marques. Steve is now production director and Steven is the business' new sales director.
Mark Mitchell, chair of the Cornwall Group, explained that the promotions not only recognise the impact that both colleagues have had on the business but they reflect the faith in the duo's potential to help drive the company forward as Cornwall Glass Manufacturing expands and adapts to the current economic climate. "We have some extremely ambitious developments in the pipeline, and it is important that we have a board of directors that has the experience and vision to make them a success," Mark said.
"Both Steve and Steven have decades of experience under their belts. They have demonstrated that not only can they work extremely well under pressure but they are great ambassadors for the Cornwall Group in general."
Steve joined Cornwall Glass 20 years ago, originally in a production role at the St Austell factory. He then worked his way up to general manager across St Austell, Plymouth and Highbridge.
"Steve is a popular manager because he is able to bring a sense of synergy and harmony across the different locations," Mark added. "As we look to expand our operations further north and east, having those skills at board level will become increasingly useful, especially if we acquire other businesses."
Steven joined Cornwall Glass Manufacturing in 2018, having joined from Saint-Gobain Glass. Employed originally as a sales representative, Steven progressed to manager level and proved invaluable as the industry returned to face-to-face meetings following the lockdown period.
"Steven shows a real aptitude for forming, developing and nurturing relationships," Mark said. "Coupled with his 20 years of glass experience, we decided that he would be a perfect addition to the board. He is only the third sales director we've had at Cornwall Glass in 25 years, with the previous two still on the board!"
Steve and Steven join technical director Angus Herdman and joint managing directors Mark Knight and Mark Norcliffe on the board of Cornwall Glass Manufacturing. The business, along with Mackenzie Glass and Cornwall Glass and Glazing, forms the Cornwall Group.