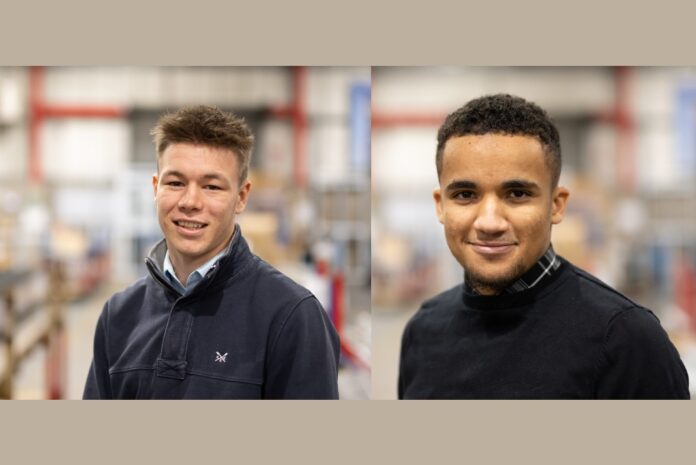 Two apprentices have joined Cardiff-based fabricator Dudley's Aluminium's estimating department: Izaak Lenney, 20, and Lewis Richards, 18. Apprenticeships combine studying with practical training and gaining valuable workplace experience, allowing participants to earn as they learn.
Dudley's Aluminium has created bespoke apprenticeship opportunities for Izaak Lenney, 20, and Lewis Richards, 18, to help the pair develop their skills as estimators and quantity surveyors. Supporting the fabricator's estimating team, Izaak and Lewis help prepare estimates, cost plans, rates and bills of quantities for curtain walling, windows, doors and storefronts for customers. Other responsibilities include managing costs of ongoing projects, carrying out construction valuations and ensuring that projects are completed within their projected budgets.
Izaak said: "Since starting my apprenticeship I have been working alongside experienced staff at Dudley's which has been so helpful for me. Shadowing someone allows you to learn at a faster pace and this has really helped build my knowledge as well as improve my personal and social skills."
Lewis added: "The idea of university never appealed to me. After doing some research, I concluded that doing an apprenticeship would be much better suited to me as an individual. Since beginning the apprenticeship I have developed a range of skills which not only help me in the work environment but also in everyday life. Everyone at Dudley's is so helpful and supportive towards my development in the industry."
Neil Andrews, estimating director, said: "It has been our pleasure to welcome Izaak and Lewis to Dudley's Aluminium through our bespoke apprenticeship scheme. We are proud to see them progress and develop in their roles; their enthusiasm and work ethic has seen them become assets to our estimating team.
"Apprenticeships are a brilliant alternative to the traditional learning pathways, providing a more hands-on experience within the workplace while you gain your qualification. We look forward to welcoming more apprentices in the future."