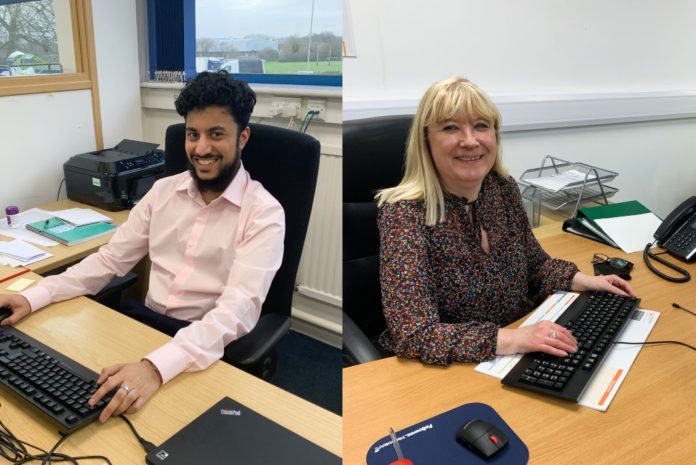 Warm-edge spacer manufacturer Edgetech has welcomed two new recruits. The announcement was made at the same time as Chris Alderson, Edgetech's managing director, marked his fifth year at the company.
Hamzah Sheikh (pictured left) has been employed as Edgetech's trainee accountant, bringing with him broad experience from similar accounting roles. Tracey Powell (right) joined Edgetech's fast-growing customer fulfilment team, as customer services administrator, hoping to further build the company's 'customers at the centre' initiative.
"We're delighted to be welcoming Hamzah and Tracey, and we look forward to benefitting from their skills and experience in the years ahead", said Chris Alderson, Edgetech's managing director, who recently marked his five year anniversary at the company. "If the last year has taught us anything, it's that a resilient business is built on the back of talented, dedicated and adaptable people."
Chris joined the reportedly world-renowned warm-edge spacer manufacturer in 2016, after more than 20 years in a series of senior roles at adhesive and sealant experts Bostik. Under Chris' leadership, Edgetech has embarked on an intensive period of new product development, which has already yielded results, they say.
"I'm very proud of what we've managed to achieve over the last five years," Chris said. "I was fortunate to have an excellent foundation to build on, and, assisted by dozens of dedicated and passionate employees, we've been able to continue Edgetech's long legacy at the forefront of IGU innovation.
"The last year in particular has demonstrated the resilience and adaptability of the Edgetech workforce, and, thanks both to them and incredibly supportive Edgetech customers around the country, we've managed to come through a very challenging year with an excellent performance.
"Going forward, we'll be continuing to push the boundaries of warm-edge spacer technology, help our customers improve their efficiency and productivity, and raise the profile of the fantastic (and sometimes sadly undervalued) work of the British IG sector."