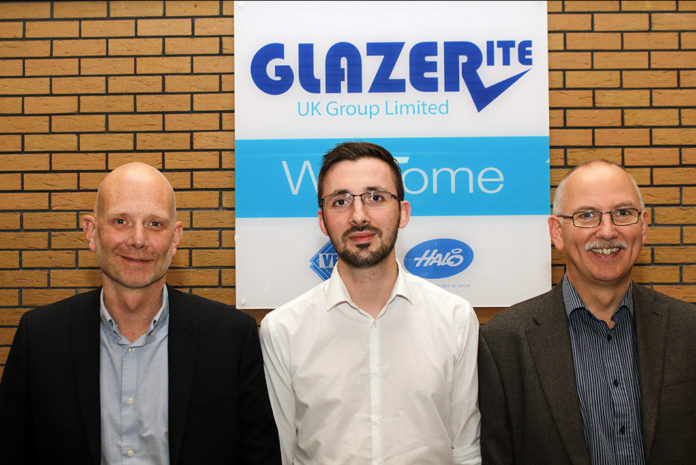 The Glazerite UK Group has strengthened its senior management team with three new appointments and an internal promotion. The fabricator says that the operations and technical-focused positions will allow it to further improve service levels across its three largest sites.
Mark Towers joins as Bolton-based North West Division general manager/ director designate. With over 25 years' industry experience, Mark has worked to improve the output of a number of manufacturing operations, ranging from composite doors to glazing, and has also held senior positions at ODL Europe Limited, HansenGlass Processing, and HM Doors. Mark said: "It's an exciting time to join Glazerite. I'm very much looking forward to working with the team at the Bolton site going forward, with an initial focus to continue improving standards at the site and carry out the investment and extension programme planned for this year."
Taking up the position of group operations manager is Andrew Worroll, who will report directly into group operations director, Ian Lloyd. He has over 20 years' experience in operations, production and supply chain, and will focus mainly on Glazerite's Wellingborough sites, in order to free up more of Ian's time to focus on the group operations strategy.
Mitchell Gooch has taken on the role of group technical and processing support manager at the fabricator's Peterborough site. Mitchell, who has previously worked in technical roles at SGM Windows Manufacturing, won the Apprentice of the Year G12 award while at Pioneer Trading Company.
In addition to these key appointments, the fabricator has also announced that Chris Price is joining the board of directors as group procurement director. Chris will focus on further improving the product development programme and procurement process across the group going forward.
Jason Thompson, Glazerite's director, said: "2018 was a challenging year for us and the industry as a whole. Despite this, we've increased our products and services portfolio, and strengthened our sales and marketing team with specialist expertise in areas like digital marketing. We have been stretched in some areas, which highlighted the need to further strengthen our senior management team. Now, with Mark, Andrew and Mitchell in place, we're in the best possible position to go forward and achieve our plans for growth in 2019 and beyond. Combined with recent and planned future investment, we're well-placed to serve our growing installer base and help them to become best-in-class."