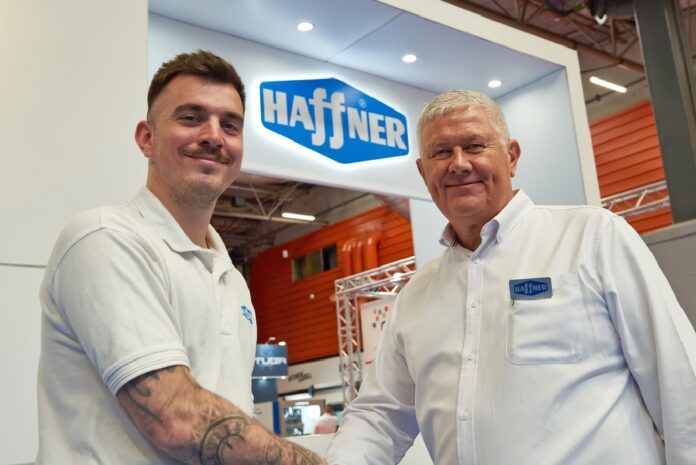 Leaders of Haffner have appointed Paul Roberts as regional sales manager for the north of England. The appointment follows four years of investment at the machinery firm, which has included the expansion of company Staffordshire headquarters, which has doubled in size, and commissioning a 37,000m² purpose-built factory in Istanbul, Turkey.
Matt Thomas, managing director at Haffner, said: "We are delighted to welcome Paul to the team. He's highly experienced in the industry and his expertise, especially in aluminium fabrication, will be invaluable as we continue to grow Haffner's customer base and deliver our ambitious growth strategy."
Paul, who joined Haffner in May 2023, said: "Having been in the industry for some time, I was looking for a new challenge. Haffner was a perfect fit.
"The business holds a strong industry reputation and has secured several awards due to its laser-focused commitment to delivering the best in aluminium and PVC-U fabrication machinery. I am delighted to have joined this ambitious business."
Haffner is marketed as offering 'the largest and most comprehensive machine portfolio in the industry' and being 'a trusted supplier for fabricators of all sizes'. The business is the exclusive UK supply partner of Graf Synergy, which is said to offer world-class seamless welding technology and has patented welding techniques. It is the sole UK agent of Haffner Machinery and is a strategic UK partner of FOM Industrie, which holds an international reputation for quality aluminium machinery that combines the latest technology with skilled engineering and competitive prices. (Here's our report about Haffner's partnership with FOM.)
Matt continued: "The business has grown rapidly over the past few years. We are now the industry's leading machinery supplier, thanks to the dedication and commitment of our talented team.
"Paul's appointment comes at an exciting time. The combination of his market knowledge and sales acumen will add further value to our business, to ensure we remain the go-to machinery supplier in the industry."