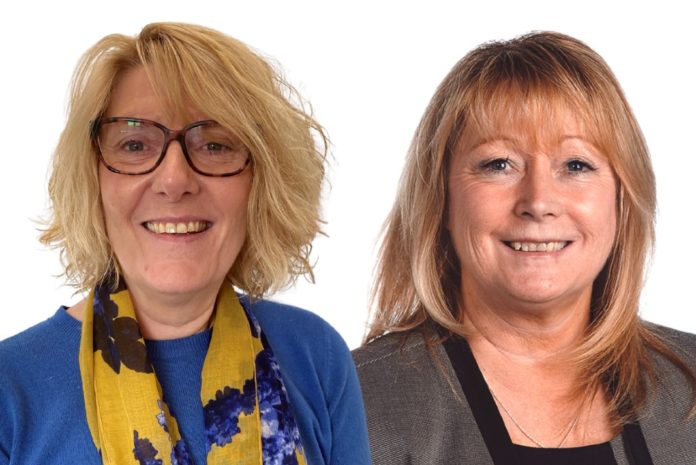 Hardware distributor Carl F Groupco has celebrated the platinum work anniversaries of two key team members: Julie Warner, Roto product manager and Pamela Wilson, regional sales manager for Scotland and Ireland. Both women have each achieved 20 years' service for Carl F Groupco.
Joining the company in 2001, both Julie and Pamela have been prominent figures at Carl F Groupco and key drivers of one of the most successful product ranges for the company, Roto FRH UNI reversible window hardware. Julie has provided technical customer support for the range, managing stock and orders, while Pamela has worked directly with fabricators to increase sales and provide dedicated hardware support across her region.
The market for reversible window hardware is traditionally dominated by Northern Ireland and Scotland, comprising primarily of commercial and domestic high-rise buildings, for which the Roto FRH UNI system had been designed. Over the last decade, demand for reversible hardware become more widespread within Scotland in particular, with many new build developers, housing associations and local authorities opting for the solution in their low-rise domestic applications, too.
John Crittenden, Carl F Groupco's managing director, said: "It is no small feat to achieve 20 years' service in any organisation. But to have achieved the success that both Julie and Pamela have during their time at Carl F Groupco, is something to be commended.
"Over the last two decades, we have been subject to the financial crisis in 2008, merged companies in 2010 and more recently faced the impacts of Brexit and Covid-19. They have built and sustained the business throughout these challenges and developed solid customer relationships."
Two thirds of Carl F Groupco's workforce have worked for the company for ten years. The knowledge and expertise gained by the team's experience allows Carl F Groupco to provide outstanding technical support, it claims, and to continue its unwavering commitment to on-time, in-full delivery service.