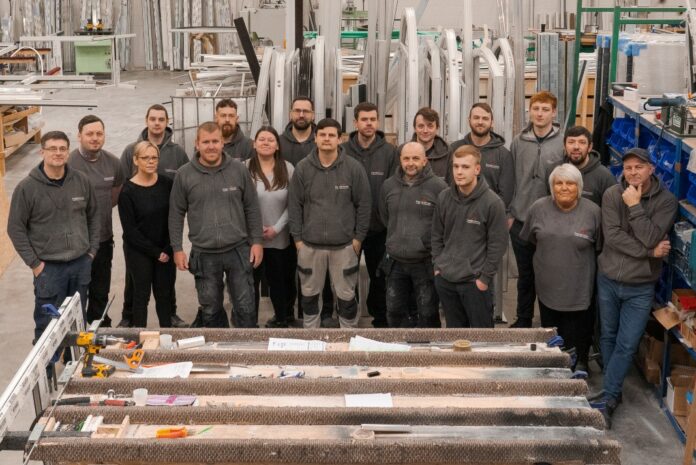 Leaders of Premier Arches have recruited seven new fabricators to the arched frame business' workforce. The move is set to bolster both production and capacity, as well as fuel business growth, the firm's representative has said.
"At Premier Arches, we've always operated on three core principles – exceptional manufacturing quality, clear and honest customer service, and making our customers' lives as easy as possible," explained Sean Greenall, managing director of Premier Arches. "With a commitment to continual recruitment and training, we're ensuring that all three tenets are met, and that our customers are always provided with the best."
He added that by recruiting seven new team members over the past three months, the business has "significantly boosted production capacity and overall expertise, and eliminated any room for error". The St Helens-based company now has a skilled range of nearly 40 people, including fabricators, delivery drivers, warehouse operatives, order processors, administrators and directors.
Established in 2015, Premier Arches manufactures and supplies arched, angled, gable, circular and bespoke windows and doors in a range of stocked systems, offering a full service to fabricators, trade counters, installers and local builders. The company sets out to transform the often daunting procedure of profile bending into a simple, pain-free process, aiming to save fabricators time and money, as well as helping them to win more lucrative projects that might otherwise be turned down.
An instant online pricing and ordering system as well as professional CAD drawings and nationwide delivery contribute to the company's commitment to excellent service. "At Premier Arches, we are committed to delivering outstanding products and services, ensuring our customers' satisfaction every step of the way," said Sean.
"We're constantly on the lookout for skilled people to join our growing team, and to keep up Premier Arches' reputation as the UK's number one arched frame supplier." For more information about the business, visit the Premier Arches website.