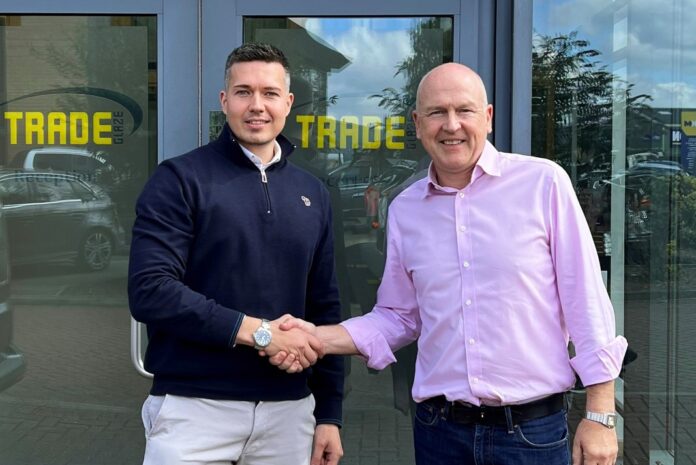 Jonathan Brewer has been promoted to head of sales at Tradeglaze, the Lincolnshire fabricator and installer of bespoke glass and glazing products. Jonathan was voted Lincolnshire's Rising Star of the Year last November (read our report on this.)
A Lincoln Law School graduate, Jonathan joined the business in 2019 as trade sales representative. He now leads both the trade and retail sales departments at Tradeglaze.
"Jonathan has been a driving force for innovation since he joined Tradeglaze," explained Jeremy Wetherall, managing director. "He has a great entrepreneurial mindset, has provided steady leadership for our trade sales team and delivered growth during challenging trading conditions of the recent years.
"We have made huge strides as a business with considerable investments in our people, new products and in machinery in the past 24 months. With Jonathan as head of sales it's a very exciting time for our group of companies."
Jonathan added: "I am proud to lead an experienced sales team driven by exceptional customer service and high-quality, locally manufactured products. I plan to continue innovating at Tradeglaze and our retail subsidiary, Jackson Window Systems, by focusing on customer requirements, ensuring we offer market-leading products with a service that is unmatched locally.
"Our teams aim to change perceptions in an industry which has not always enjoyed great reputation. We know we are different.
"The fenestration industry has experienced significant change in the recent years, driven by the government's commitment to achieve carbon net zero by 2050. We have already taken the necessary steps to offer the most innovative, thermally efficient products available. We will be soon adding a Passivhaus-certified 'Zero 90' system to our portfolio. This will enable us to supply new products needed to support construction and renovation projects in our region that increasingly require sustainable, low-carbon, energy-efficient solutions.
"Earlier this year we earned two national awards at the prestigious GGP Installer Awards, and we have a hard-working, friendly team who all share the same common goals. This makes our business an attractive prospect for those looking for work opportunities. I aim to continue building on this culture ensuring we consistently provide a professional, stress-free and enjoyable experience for our customers."