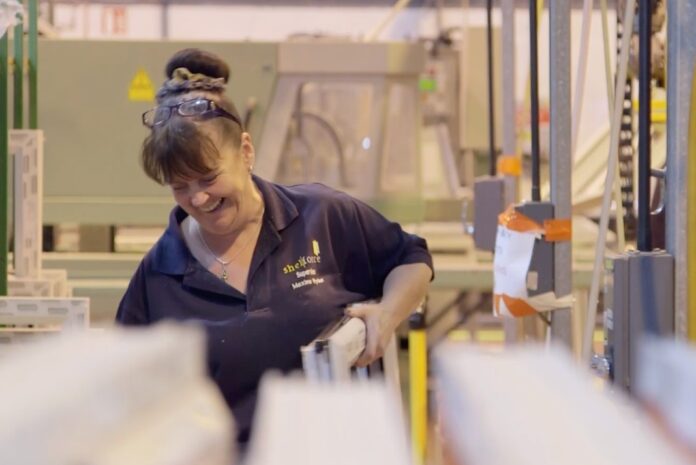 Maxine Ryder, a production supervisor for Shelforce, has been shortlisted to win the 'Woman of the Year' award as part of the 2023 Women in Housing Awards. Winners are to be announced on 26 June.
As a key staff member of the Birmingham-based company, Maxine leads a team of 28 people on the factory floor. Her responsibility is to produce and dispatch Shelforce products.
Maxine has worked at Shelforce for 15 years, and also looks after the pastoral care side of the operation and day-to-day supervision on the shop floor. She manages and communicates with employees who have different needs, as 75% of the Shelforce workforce have a disability. Maxine also supports the workforce outside of the factory, in their daily lives.
Howard Trotter, Shelforce's business manager, said: "Maxine is an inspiration to everyone here at Shelforce. She demonstrates real leadership and has a personal commitment to supporting the team, which is why she excels in the role. She has been in window and door manufacturing all her life, knows every product inside out, and can run work on machines if needed.
"She gets the best out of every individual and her team are extremely loyal to her, while she is also very highly thought of by customers. For Maxine it's not about her, it's always about the team. That's why she's so good at her job.
"This recognition is fantastic. She is a huge part of our success here at Shelforce, and it's fitting that she has been nominated as she is an outstanding ambassador for women in housing."
This year's Women in Housing Awards is set to take place alongside the Housing Heroes Awards as the opening ceremony at Housing 2023, which is marketed as Europe's largest housing festival. The event is to be held at Manchester Central, with the popular news anchor Huw Edwards leading proceedings as host.