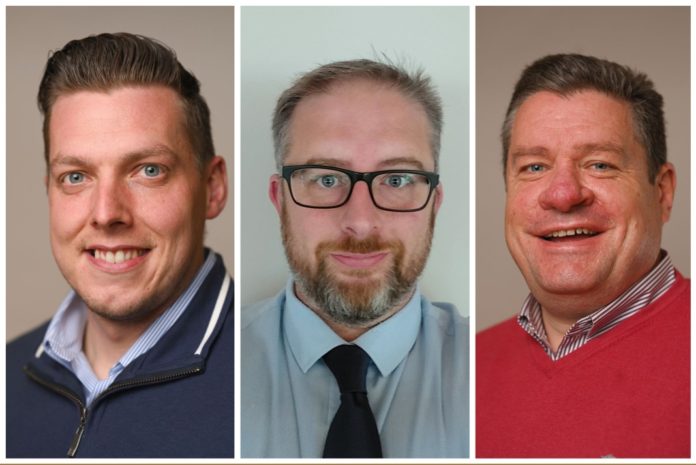 Keylite Roof Windows has appointed three new area sales managers to help increase sales for Irish builders' merchants and contractors. Dave Halleran, Ray Blake and Ian Kelly will be responsible for growing Keylite brand and product awareness in their dedicated regions, and also for supporting Keylite's expansive customer base.
Ian Kelly, who previously worked as national sales manager for Venture Lighting Europe, says his sights are set firmly on establishing the full potential of his sales district. For the last 20 years, Ian has worked with a variety of brands. He said: "I'm thrilled to be joining the team at Keylite, where I'll be looking after Dublin and the south east of Ireland – an area where I believe there is bags of potential that can benefit both loyal and new Keylite customers."
Ray Blake has always had a successful career in sales, being awarded the highest selling sales representative in Ireland at multinational beverage company Diageo, and opening approximately 100 new accounts in two years for Wurth Ireland. In 2017, Ray went back to college to study for his business degree, which allowed him to progress into the construction sector. Now overseeing the west coast of Ireland for Keylite, Ray said: "Working for a company and in an industry that I'm passionate about is something that really drives me. I want to ensure all my customers, from merchants to end users, feel as though they can always reach out to me. Making sure my customers feel looked after, supported and in safe hands is a huge priority for me."
Dave Halleran has a long history in the construction sector, and was previously based at Sherwin Williams. Since his first job working for his family's business, he has stayed closely connected with the sector throughout his career in telecoms and sales. While working for software company Synchro, Dave was drafted in to oversee a large new business sector where he managed 40 regional retail stores and was responsible for major business contracts – at one point managing a team of over 50 across the country. Dave said: "Between Keylite's fantastic career progression opportunities, renowned loyal customer base and product innovation, joining the team felt like an absolute no brainer for me. I'm very excited to get stuck in."
For more information about Keylite Roof Windows and its expansive product range, visit keyliteroofwindows.com or download the product brochure here. You can also call 01283 200 158 or email info@keyliteuk.com.