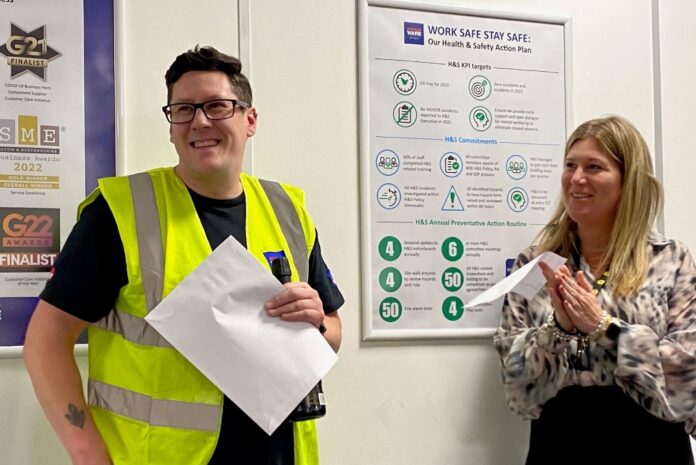 Simon Field, a senior warehouse operative at Window Ware, has received a long service award for 20 years' service for the fenestration hardware provider. The award was presented to Simon last month by Window Ware's managing director, Sam Nuckey.
"I believe the average length of service for employees in the UK is currently around four to five years. That makes long working tenures like Simon's even more special and definitely something to be celebrated and rewarded!" said Sam.
"I'd like to take this opportunity to thank him for all his hard work and commitment over the last two decades. The warehouse team really is the backbone of our business and Simon is one of our longest-serving members. Without him and the rest of the team, we simply wouldn't be able to provide our customers with our trademark high levels of service, accuracy and dependability."
Laura Wren, operations service manager and Simon's line manager, agrees: "Simon plays a pivotal role in helping us maximise efficiency and cater to the changing needs of our customers," she said. "His positive and cheerful attitude along with his two decades' worth of experience make him a great colleague and a brilliant mentor for our newer staff."
Simon remains modest about his achievement but described Window Ware as "a really friendly and supportive company to be a part of". He added: "The job has meant I've been able to develop my career, support my family and enjoy my free time, so it pretty much ticks all my boxes."
Sam continued: "A business is only as strong as its people, so it's a good job we've got a team full of dedicated and talented people like Simon to help keep driving Window Ware forward." For more information about Window Ware, or to request a copy of the firm's aluminium hardware catalogue, call 01234 242 724, email sales@windowware.co.uk or visit windowware.co.uk.