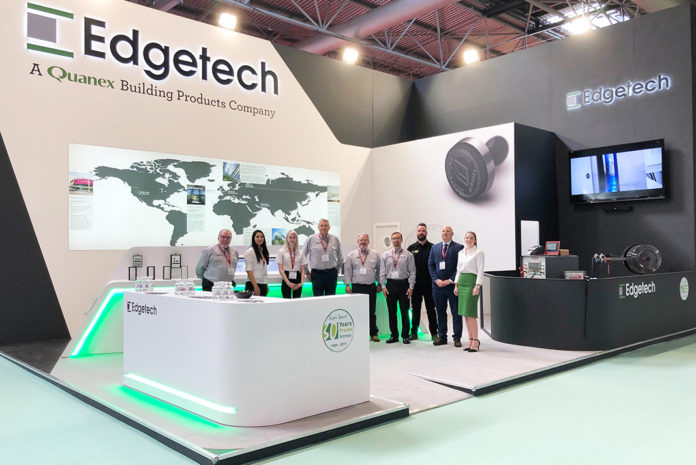 Last month's FIT Show was said to be a 'momentous one' for Edgetech, as the company celebrated 30 years of Super Spacer as well as introduced a new rigid spacer bar – Edgetherm RS.
According to Edgetech, Edgetherm RS has been designed to eradicate the PIB migration problems that commonly spoil the looks of many ageing IGUs.
Designed and tested in Coventry by technical development manager, Gary Shoesmith, Edgetech says the product is a step forward in rigid spacer bar technology, with a unique design that offers enhanced productivity, durability, thermal performance and aesthetics.
Edgetech also welcomed senior colleagues from all over the world to the NEC for the three-day event. Johannes von Wenserski, Edgetech Europe's Prokurist, was on hand to support his UK colleagues, and Joe Erb, the company's highly experienced commercial projects manager, flew in from America to give daily seminars on the changing landscape of architectural glass specification.
Edgetech was also joined by gas filling expert, Inagas, which demonstrated its range of high-tech gas filling and Sparklike gas testing equipment.
"We were humbled and delighted by the support we received at this year's show – not just from colleagues and customers, but the trade press and show-goers as a whole," commented MD Chris Alderson.
"The reception Edgetherm RS received was great, and the feedback we got on our new e-commerce system, which we were demonstrating on the stand, was extremely encouraging too.
"A very heartfelt thanks to everyone who took the time to visit the stand. Our launches at the show were just a taster of our focus on innovation. We look forward to showing you more of what we've been working on over the coming months."