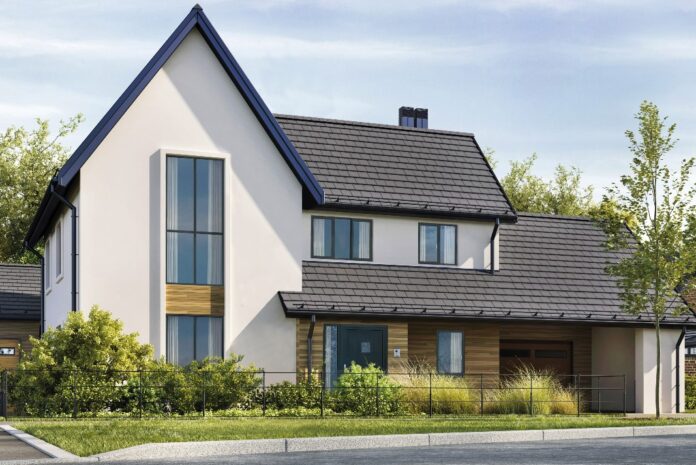 Smart Architectural Aluminium has launched Alitherm 400, the latest addition to its proven Alitherm portfolio of window and door systems. Reportedly combining 'outstanding value and quality' with 'class-leading performance and security', the new Alitherm 400 system offers a range of stylish casement windows and single and double doors.
The system has been designed to fully comply with the updated thermal requirements of Part L of the Building Regulations. This was introduced in England on 15 June 2022.
Developed to suit a wide variety of projects – including both new-build and refurbishment, residential and light commercial applications – Alitherm 400 features Smart's Quick-Glaze Beads which have integrated gaskets. As the profiles and beads are supplied with glazing gaskets pre-extruded into the profile, the Quick-Glaze Bead significantly reduces fabrication and installation time, the company claims.
The Alitherm 400 window system is available in fixed-, side-hung, top-hung and flush casement options, and has been developed with efficient fabrication and fast and straightforward installation in mind. The system also features both flush and chamfered window profiles. The flush, flat face option is suitable for offset, face-mounted espagnolette locks and the chamfered design, which features a eurogroove, enables in-line espagnolette locking mechanisms to be used.
Available in open-in or open-out and single- or double-door options, the Alitherm 400 doors 'perfectly complement' the window range, its creators say, featuring 'stylish lines and ease of fabrication and installation'. The doors can also be combined with Smart's Designer Door Panels and the company's range of standard door furniture (including colour-matched lever handles and the Quantum range of stainless steel hardware) to create elegant and contemporary entrance doors.
Eddie Robinson, Smart's managing director, said: "Our Alitherm systems have proved exceptionally popular in projects across the UK. We're delighted to now be adding Alitherm 400 as yet another option.
"Fully compliant with the new Part L requirements, the system is fast and easy to fabricate and install, which together with its elegant lines and outstanding performance provides a solution for architects, developers, fabricators and installers. Along with our new Visofold 1000 Slim bi-fold door, we're also delighted to be launching more great new products that have been designed, developed and manufactured in Britain."
Both window and door systems provide 'excellent weather and thermal performance', according to Smart, as well as the security assurance provided by PAS 24:2016 accreditation. The systems are also available with a wide range of 316 marine-grade stainless steel hardware options, which can be painted to order. The systems and hardware are all available in Smart's extensive range of standard colours.
For more details, call the company's support team on 01934 876 100. To download the new product datasheets, visit smartsystems.co.uk.