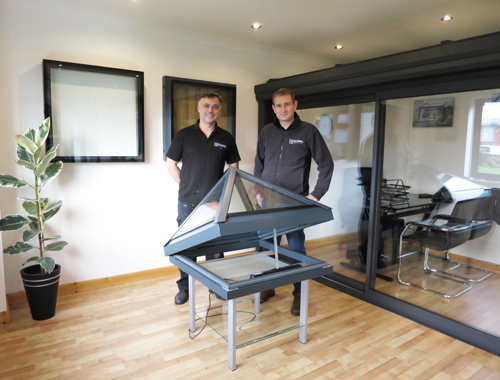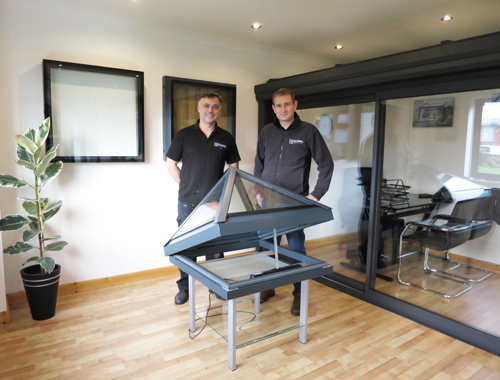 Last month saw the launch of a new range of rooflights from Smart and Schueco aluminium fabricator, Alumen.
Alumen has spent the last six months developing what it describes as 'a truly top quality aluminium rooflight range' and with 'intelligent design, great looks, simple installation and fast lead times', the products are reportedly 'flying straight off the shelf'.
Alan Robinson, managing director, commented: "When we launched our new range of rooflights to the trade last month, we hoped there would be a lot of interest – but even we have been surprised by just how high those levels have been! Designed specifically for better aesthetics, smoother operation and representing value for money, trade customers now have the choice of off-the-shelf fixed, manual and electric opening, square and pyramid rooflights in addition to bespoke options including integral lighting, temperature control packs and a variety of glazing options. All with secure, weather tight and moisture resistant frames, the range comprises three distinct families – the Aether, Helios and Olympus brands.
"Available for next day delivery in a variety of sizes, we can offer customers choice: for a contemporary, clean square shape, Aether is our flat fixed square rooflight consisting of a strong square line frame and glazed edge to edge for minimalist styling and available with walk over option; with the same technical properties as Aether, Helios is our chamfered edge option fixed rooflight and is available as a manual opener or upgradeable to an electric opening with optional weather pack for even more added value. These rooflights provide controllable ventilation as well as modern good looks. Our pyramid option is the Olympus with its internal and external aluminium trim for a clean stylish finish consisting of a strong, weather tight, secure frame at a 45º pitch. Fixed, manual or electric opening options are available with internal lighting and the size can be extended into a fully opening larger roof lantern.
"All of these options offer top quality engineering at a cost that offers the trade a great opportunity to complete and add value, choice and margin to their rooflight sales. Topped off with next day delivery, easy online ordering, tailor-made marketing support and of course an installation manual, our aim is to open up this growing market to even more installers and builders across the UK. Call us now for limited period special offer of free next day delivery."