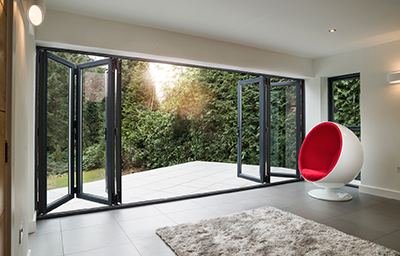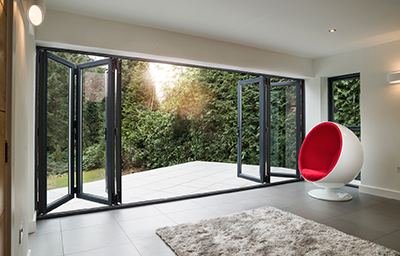 Liniar has revealed its latest innovation at The FIT Show – a pure aluminium bi-folding door, called Alumina.
Said to be the first thermally efficient aluminium bi-fold to match a PVC-U window system, Alumina reportedly breaks new ground with 'superb strength, high security, low 'U' values, sculptured lines and an optional foiled exterior'.
Group CEO, Roger Hartshorn, explained why the PVC-U systems company has taken the unusual step of designing a fully aluminium bi-fold system: "During conversations with customers it became clear that there's a need for aluminium bi-folds for larger and more heavy-duty applications – but there was nothing on the market that exactly matched a window system.
"This got us thinking – what if there was a way to create a true aluminium door with the same sculptured profile as our window system? What if we could make it the most thermally efficient aluminium bi-fold? And what if we could foil the exterior, so it matched perfectly with PVC-U windows? Finally, we wanted our customers to be able to manufacture it using traditional techniques and machinery.
"We did look at multi-material clad hybrid doors – however our feedback showed there are inherent problems with this type of bi-fold. Not only do they require specialist machinery and set-up costs, they can be extremely difficult to fabricate.
"Furthermore, the warmth of the PVC-U is hidden away inside the profile so it's difficult for consumers to see the benefits of such a system. A true aluminium bi-fold was the answer."
Able to span 1.2m wide per sash and 2.5m high, Alumina can be manufactured using standard aluminium machinery. For customers who would prefer to buy it prefabricated, the Liniar team says it can make the doors to the customer's 'exact specifications'.
With an optional 'warm touch' foiled exterior to counteract the sometimes 'cold feel' of aluminium, Alumina is available in 'just about any' powdercoated colour, as well as a woodgrain or flat foiled finish – perfectly matching Liniar's PVC-U windows.
Reportedly the only fully sculptured (curved) aluminium bi-fold door on the market, consumers will be able to choose Alumina doors that match the shape of Liniar's sculptured PVC-U windows, as well as the colour.
The Alumina system has reportedly been designed 'with tomorrow's thermal performance requirements in mind' and features a combined lock and thermal insert. A high-strength engineering polymer lock body means the lock itself acts as a thermal break, boosting the door's thermal performance compared to a traditional aluminium door. With 28mm double glazed and 36mm or 40mm triple glazed options available, Alumina offers 'true' 'U' values as low as 1.2W/m²k, thanks to the thermal lock and 40mm triple glazed unit.
Alumina has also obtained PAS 24 accreditation and has been awarded Secured by Design status at the first attempt.
Proving 'a major draw' for visitors to The FIT Show, the reaction to Alumina, which will be officially launched in July, was unsurprisingly positive.
Kevin Richards, managing director of Senator Windows, said: "Wow! The Liniar team have done it once again with the Alumina bi-folding door; outstanding strength, security and thermally efficiency in one aluminium bi-fold. The fact that it's the first of its kind to be sculptured and foiled makes it an industry first. Our customers are going to love it!"
Jeff Walsh, MD of Pearl commented: "Intelligent thinking is what makes Liniar different to other systems companies – and the Alumina door is amazingly beautiful. A perfect match to all your Liniar products, with a twist… we can't wait for July!"
Roger concluded: "We've always had a strong sense of loyalty to, and from, our fabricators. Alumina by Liniar will be exclusively available to Liniar customers, giving them the option of offering a full and matching suite of beautifully coloured products to consumers. Alumina doors will be manufactured in-house and by selected Liniar fabricators, using Liniar's normal delivery channels. This means we can deliver shorter lead times than other suppliers – making it easy for Liniar fabricators to offer a fully matching aluminium bi-fold."
For more information on the Alumina by Liniar bi-fold door go to http://alumina.liniar.co.uk or email sales@liniar.co.uk.