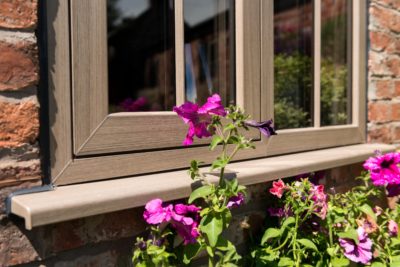 Liverpool fabricator, Warwick North West, has claimed there are opportunities for installers in conservation areas.
For years, the company says, conservation areas were a 'no-go area' for PVC-U windows but it claims that's begun to change, reporting an 'upsurge' in the number of premium quality PVC-U products capable of delivering both 'outstanding all-round performance and convincing timber-style aesthetics', in the last decade.
Products are accepted into conservation areas on a case-by-case basis. That means that just because a product has been cleared for use in one conservation area, it doesn't necessarily mean it will be cleared for use in another.
But according to Warwick North West, there are certain characteristics that all conservation officers look for in window products – and the company claims its Innolux range 'has them in abundance'.
"Conservation areas present installers with a big opportunity," commented Warwick director Greg Johnson. "In Liverpool alone, there are 36, covering 9% of the city and 19,000 properties. That leaves a huge number of homes and potential home improvement projects in need of products that can comply with strict Article 4 regulations – and it's here that our Innolux windows, based on Eurocell's market-leading Modus system, could help you win lucrative business."
Offering 'classic looks without costly maintenance', the Innolux window is said to provide a 'viable alternative to timber'. Thanks to Eurocell's 'highly versatile' Modus system, the Innolux is available in three sash options: standard, slim rebated and flush sash – which, according to Warwick North West, provides an 'especially convincing' option for historic properties. With a wide range of woodgrain finishes on offer, installers can also tailor an Innolux window to the look and character of 'virtually any conservation project'.
While appearing 'authentically traditional' on the outside, beneath the surface the Innolux is said to offer the state-of-the-art performance of modern PVC-U – including superb air-tightness, quick, hassle-free fitting, A-rated energy efficiency, and a 12-year guarantee.
"It's the sheer versatility of the Modus system that stands it out from the competition," added Greg Johnson. "Put a woodgrain finish on a flush sash Innolux and you've got a tasteful product suitable for conservation areas. Make up an anthracite grey slim sash instead, and you've got a sleek, contemporary product that can bring a stylish, modern edge to any property.
 "Innolux is a fantastic way for installers to make gains at the high end of the market. Like everyone, we've found that affluent consumers have become much more discerning over the past decade – no longer willing to settle for just a product that looks good, or one that performs well. They're now looking for home improvement solutions that excel in every area. Our Innolux range of doors, windows and bi-folds has been specifically designed to fill that niche."