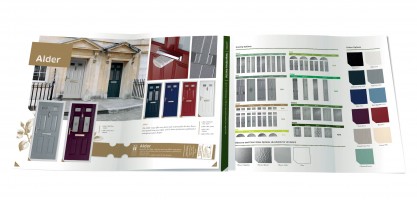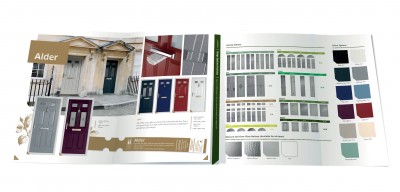 A surge in demand for its high-performance Meridian composite door has prompted Phoenix Doors to reprint the glossy 42-page brochure that accompanies the range.
Designed and produced to a high specification, the brochure quality reflects the status of this luxury 70mm double-rebated door, which can be fully personalised to suit customers' individual requirements.
The Meridian collection includes nine styles, all named after tree types and features both traditional and contemporary designs with five brand new and exclusive glazing options. All Meridian glazing units are 50mm triple glazed as standard and a range of traditional and contemporary glass designs are available for each door style.
Choosing a door is made easy thanks to a unique 'fold-out' user guide, enabling the purchaser to select their door in five simple steps. All the required elements of the chosen door can be viewed across one double-page spread.
New heritage colour finishes including French grey, duck egg and Chartwell green feature prominently, alongside bright solid colours like 'very berry' that are said to make a 'bold statement'. The Bespoke Colour Selector allows customers to pick virtually any colour by stating their colour choice and RAL reference code, creating 'almost limitless' personalisation options.
"Coloured doors are becoming really popular, especially our new heritage colours, and to a lesser extent, some completely individual shades like orange and pink. Our in-house paint spraying facility, which has been very busy over the past year, is being expanded to cope with forecast demand throughout 2016 and beyond," commented Haydon Statham, Phoenix Doors' sales director.
No smart composite entrance door is complete without quality hardware and Meridian customers can select from four suited colour options, with additional bronze and satin finishes also offered. All hardware finishes on the Secured by Design-compliant doors are guaranteed for ten years.
Haydon added: "Meridian has been very well-received by our customers, hence we have had a lot of demand for this stunning brochure. Rest assured, we will have plenty to go round!"
To request a free marketing pack or to express an interest in Meridian, please call Phoenix Doors on 01487 740469, email info@phoenixdoorpanels.co.uk or visit the website at www.phoenixdoorpanels.co.uk