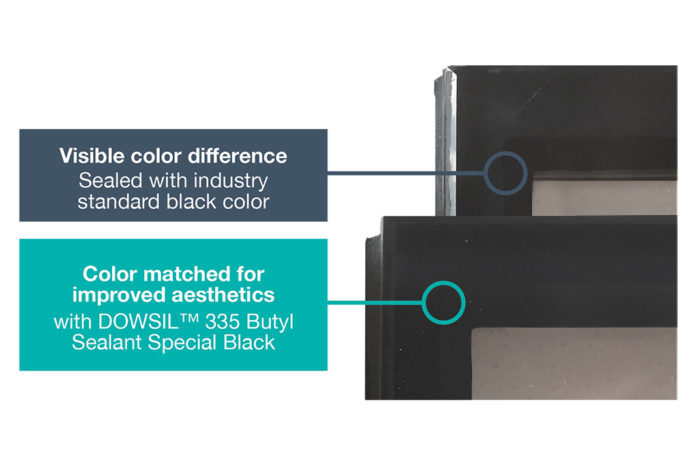 Dow is now offering designers and specifiers the opportunity to realise an aesthetically pleasing 'one-colour-edge' for insulating glass, a key design element in modern glass facades.
This new colour matched edge sealant system is comprised of a Dowsil primary and secondary sealant which when combined, offers high performance and high temperature resistance in gas-filled insulating glass for a homogenous appearance and improved aesthetics at the glass edge.
New to the industry, Dowsil butyl sealant special black is a heat applied polyisobutylene (PIB) for use as the primary edge seal, which also acts as a gas and moisture barrier. Dowsil secondary silicone sealants help maintain the integrity of both air and gas-filled dual and triple-glazed insulating glass units.
Suitable for glass assembly using both standard and warm-edge plastic or metal spacers, Dowsil 335 butyl sealant special black is in full compliance with EN 1279 in an insulating glass (IG) system and can be used in high performance glazing systems that are designed to perform under elevated temperatures of up to 95-100°C with no evidence of trickles or flows within the unit, making it ideally suited for use in specific designs and warmer climates.