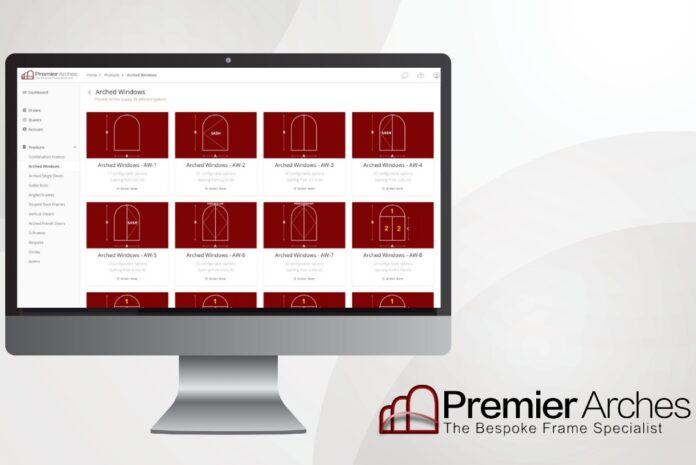 Arched and angled frame manufacturer, Premier Arches, has a new pricing and online ordering platform, allowing fabricators to get their quotes within seconds, 24 hours a day. Within the arched frame market, it can typically take days for fabricators to get an informed quote or order acknowledgement, delaying processes, and often resulting in frustrated customers. But with the new pricing and online ordering platform, fabricators can swiftly get on with the job at hand.
Sean Greenall, managing director for Premier Arches, said: "Pricing and ordering arched and angled frames has been a complex and time-consuming job for years. But our custom-built, revolutionary online pricing and ordering platform has changed this.
"We are the only arched frame supplier in the UK to offer a platform like this, allowing fabricators to price and order even the most complex arched and angled frames in a wide range of profile systems, including glass, accessories and hardware, in a matter of seconds. They can also securely save their quotes and view their orders through a unique login portal on our website, taking full control of the ordering process and getting ahead of the competition."
Established in 2015, Premier Arches manufactures and supplies arched, angled, gable, circular and entirely bespoke windows and doors in a range of seven stocked systems, including Residence 9, plus another five non-stocked systems. It offers a full service to fabricators, trade counters, installers and local builders.
The St Helens-based company claims to transform the often-daunting procedure of profile bending into a simple and pain-free process, saving fabricators time and money, and helping them win more lucrative projects which would otherwise be turned down. The company has also seen more customers choosing to order fully fabricated frames, including sashes, accessories, glass and composite door slabs.
Sean continued: "At Premier Arches, we pride ourselves on our exceptional manufacturing quality, our clear and honest customer service, and our 'make life easier' offering, something which our pricing and online ordering platform contributes to. Around 60% of our customers are already making use of the platform, and we've seen first-hand the impact it's had on streamlining their processes.
"Waiting days for arched window and door quotes can cost installers, fabricators or trade counters the job. But our unique platform means no messing, no waiting, and quotes in seconds.
"If you're looking for a reliable arched frame supplier, give us a call today. We'd love to hear from you." For more information, or to sign up, visit premierarches.co.uk.