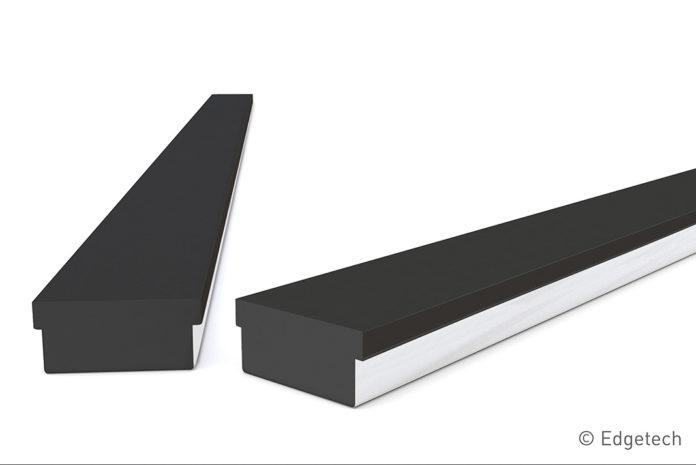 Edgetech has launched a new version of its celebrated Super Spacer T-Spacer.
Super Spacer T-Spacer SG is a metal-free, silicone-based warm edge spacer made of structural foam with an integrated desiccant, that, according to Edgetech, has been designed for the toughest commercial applications.
On demanding glazing projects using extra-large glass panes, its durable edge seal is said to guarantee decades of 'exceptional performance and stability'.
Edgetech adds that T-Spacer SG offers enhanced shape memory, which is reported to be critical for the long-term integrity of the edge seal. Its elastic structural foam follows climate-related movements of the glass, relieving a large proportion of the load from the butyl seal.
Edgetech says that this is a huge advantage in parts of the world that experience fluctuating temperatures.
T-Spacer SG achieves thermal conductivity of 0.19 W/m2k – much lower than the commercial metal and hybrid rigid spacers on the market.
"Structural glazing continues to be hugely in demand, and Super Spacer T-Spacer SG is a world-leading spacer product for the toughest commercial glazing projects," commented Edgetech managing director, Chris Alderson.
"We've taken the hugely successful template provided by T-Spacer Premium Plus, and improved it in a number of ways, to produce what we're confident is one of the world's best flexible spacers.
"What's more, we've adapted the typical T-shape warm-edge spacer design to make SG even easier to use with automated IGU manufacturing lines.
"We're delighted to be bringing Super Spacer T-Spacer SG to market, and look forward to seeing it incorporated in ambitious commercial glazing projects all around the world."