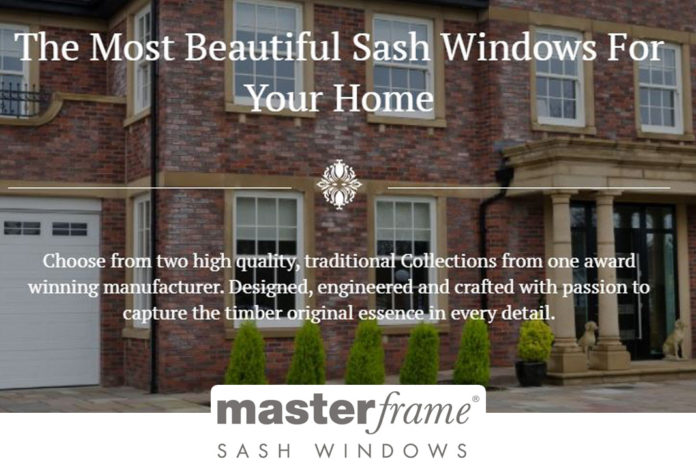 Sash window specialist, Masterframe, has launched the first of three new websites, a 'crisp and clean' lead generation site with user friendly navigation.
The new retail facing website at www.masterframe.co.uk reportedly signals a change in strategy for the company, with all its product offerings brought together under the Masterframe brand.
Carol Slade, managing director, said: "We have engaged the services of experts to create a user friendly, lead generation site that promotes all our products, whilst primarily showcasing our Bygone Collection to retail customers. Bygone sash windows are only available through a network of Master Installers that have been handpicked for their expertise and customer service ethic and they are promoted throughout the new site with a bold new logo. Key trade customers are also featured on the site.
"Consumers can now see all of their sash window options through one 'shop window' and choose from the popular Classic Collection or the most exclusive Bygone Collection. To make this a popular digital destination, we are planning a significant marketing campaign to drive them to the site.
"To inspire customers and to enhance their user experience, we have also invested in a number of virtual showroom videos. These have been added to the individual Master Installer pages with our own showrooms also featuring on the site. The videos have all got added hot spots that explain finer details of our quality products that often go unnoticed."
The new site also features dedicated new sections for Masterframe's offerings such as the London Sash & Frame design and Timberweld. The new Pricemaster Window Configurator featured on the site allows customers to design and request a quick quotation from their nearest Master Installer.
Masterframe says it also plans to launch a trade focussed website. This site will be designed as a helpful tool and information hub for trade customers, architects, specifiers and commercial customers. Full details of the Classic Collection will be included along with specifications, visuals, useful resources, new video content and other more technical information.
A third site, the last to launch, will be an educational site, including information on sash windows and other interesting topics. Carol said: "The site will be our chance to give back to the greater market by sharing our experience and expertise on sash windows and we will also invite other experts, in related industries to share their vision and knowledge. We expect the site to build over time as we add more and more relevant content."