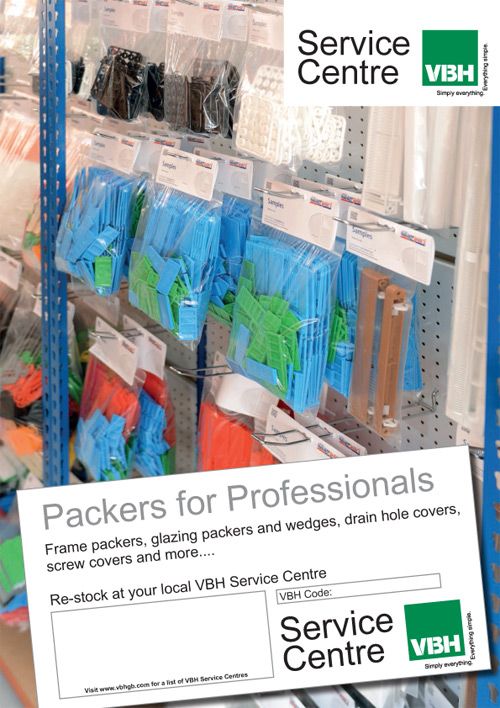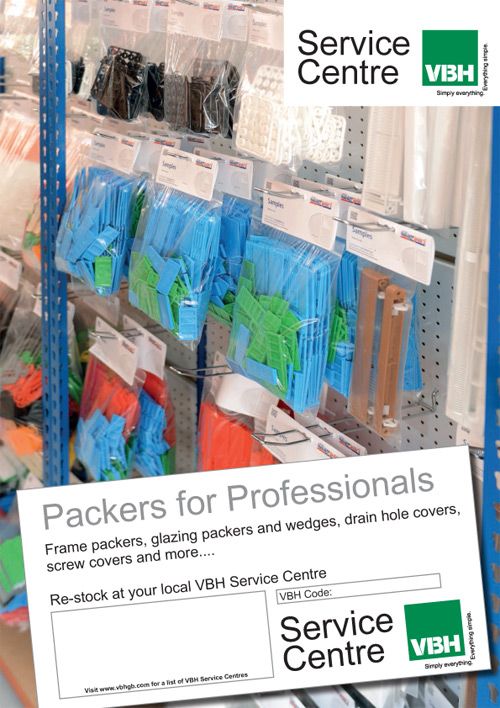 Hardware specialist VBH now stocks Glazpart's Packers for Professionals range of plastic accessories for the glazing industry.
The range, known informally as P4P, includes all the items regularly used by installers and manufacturers of windows and doors, as well as those who maintain and repair them. P4P products include flat and wedge glazing packers, frame packers, glazing shovels, drain hole covers and screw washer cover caps.
VBH says it has long supplied such products in bulk packaging, usually of 1,000 units or more, but feedback highlighted that it would be of real benefit if these products were available to buy in smaller pack sizes. P4P addresses this issue by breaking down the products into handy bags containing more manageable quantities. P4P packers, for example, can be ordered in bags of 100, either of all the same thickness or in bags of mixed thicknesses to further cut down on stock holding.
Gary Gleeson of VBH said: "It's not always practical for customers, particularly the guys on the vans, to stock bulky boxes of packers and covers. P4P is the perfect solution to this problem as customers can have a comprehensive selection of all the items they need, whilst taking up minimal space. The clearly labelled bags allow quick product identification so save time on site and eliminate waste and costs through 'lost' products.
"We'll be encouraging our expanding nationwide network of VBH Service Centres to stock P4P, so users will be able to pop in to their nearest Centre and pick up what they want, when they want it."

More on P4P can be downloaded from www.vbhgb.com or can be requested by calling VBH sales on 01634 263300.