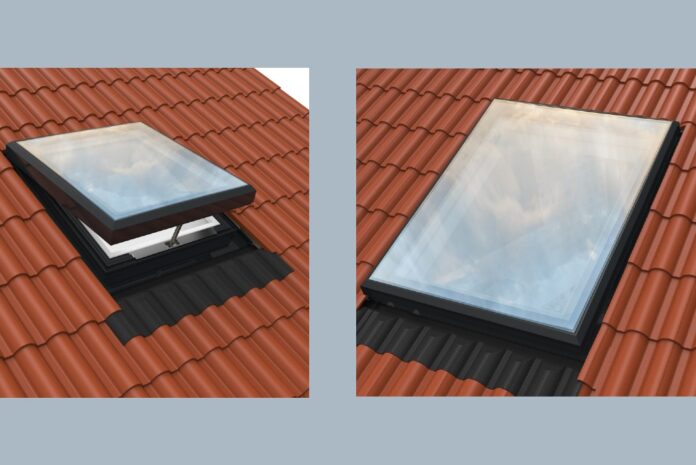 Rooflight pioneer Sunsquare has launched Aero Pitch, which it calls 'the world's most advanced and thermally efficient skylight for 20-60° tiled roofs'. The product debuted at Grand Designs Live, which began on 30 April and ends on Sunday (8 May), at London's ExCeL. Visitors to Grand Designs Live can take an exclusive look at Aero Pitch on Stand Q80, along with Sunsquare's other flat roof models.
Aero Pitch is not only fully automated, it's condensation-free, the business' representatives say. It holds a BSI Kitemark for safety and quality, and is reportedly easy to install, with one universal flashing kit to fit any roof.
"We've been flat-roof skylight specialists for 18 years," said Justin Seldis, Sunsquare's managing director. "Using our pioneering design experience, we wanted to address all the common issues people face with pitched roof skylights, such as thermal performance, condensation, safety and usability. We've ended up with the most advanced skylight out there.
"But that wasn't our only focus; we wanted to make it as straight forward as possible for installers too. That's why we developed a universal flashing kit that will suit any tiled roof, from 20-60°. Our kit has everything you'll ever need with no hidden extras needed, even for bespoke sizes. In fact, the skylight, flashing kit and upstand all come as part of the package, so installers always have everything they need to get the job done easily."
As with all of Sunsquare's skylights, Aero Pitch offers high thermal performance and is thermally broken, providing an effective barrier between internal and external temperatures. It offers U-values as low as 0.5 W/m²K and is condensation-free. This means that the product keeps rooms warm, dry and more energy efficient all year round, cutting energy bills and reducing the building's carbon footprint too.
Aero Pitch also comes with Smartsquare, 'the world's first smart switch', as standard. This allows users to open or close the skylight wherever they are, at the touch of a smartphone button or through smart speakers. Users can even programme the product to automatically open and close based on weather conditions, humidity, inside temperature, sunrise or sunset, or the user's own proximity to the building.
Safety is another key feature. Aero Pitch uses shatterproof laminated glass and is top hinged for extra security. It is marketed as the first pitched roof skylight to hold a BSI Kitemark – a globally renowned stamp of quality. The mark means that the product has been independently tested to destruction, to ensure ultimate durability and endurance levels, giving people complete peace of mind.
"On top of everything, we wanted to give people a skylight that was as flexible and as aesthetically pleasing as possible," added Justin. "Aero Pitch is sleek and stylish and can be tailor-made to suit any design.
"It comes in fixed and bespoke sizes, double and triple glazing, it's compatible with any blind system and its aluminium frame can be powder-coated in any RAL colour to match any décor. It's even available in a conservation format to complement more traditional architecture. With Aero Pitch, people have full design control."
Aero Pitch is available to buy online in seven fixed sizes. Bespoke sizes are available on request. Orders are backed by a ten-year insurance warranty, including a two-year guarantee on any necessary electronics. For more information, call 01284 848 792 or email sales@sunsquare.co.uk.