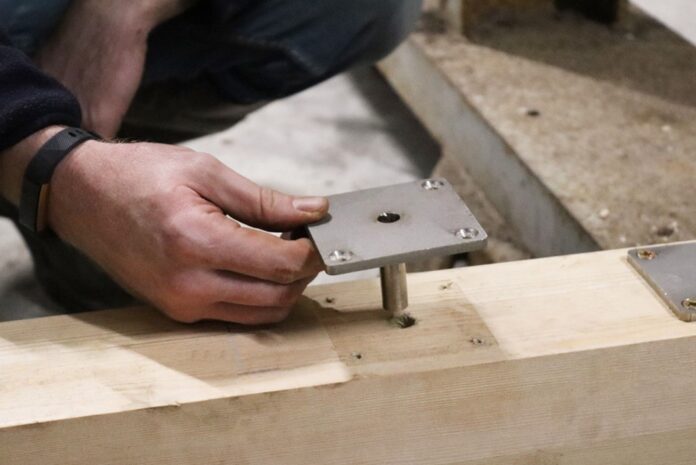 This month sees the launch of Pure Vista's new timber fixing plate. The product allows for the installation of frameless glass balustrades to timber safely, with no need for handrail, according to its manufacturer.
The new fixing allows the design of a building to incorporate the correct-sized framework for the installation of a glass balcony. Decking areas can be designed with the right-sized timber to accommodate the timber fixing plate or existing can be bolstered up to suit.
Mark, Pure Vista's director, said: "We were constantly having to help installers or architects get around the issue of having a balustrade installed on to a timber framed building. We had to come up with some interesting workarounds or simply have a total redesign. This plate opens up having balustrade fitted to timber which installers can walk away from happily, knowing it will be secure. The timber plate can be incorporated with our BalconySeal system to provide a waterproof installation".
Compatible with POSIglaze base fix, this new addition aims to allow frameless installations onto timber safely. Adam, one of Pure Vista's directors, added: "We are excited to the launch the timber fixing plate, our innovative new secure method of installing balustrade channel to timber.
"The plate is engineered to spread the load and minimise the risk of splitting or crushing the timber, while also preventing the fixing from pulling out under extreme loads". The patented Pure Vista timber fixing plate has been designed to provide a solid fixing where the substrate is timber. It is a square plate with a threaded sleeve in the centre which holds on to the balustrade channel.
The timber fixing plates are fixed to the timber using four 6x100mm wood screws. The plates have a 20-micron-thick zinc plating which makes them suitable for outdoor use.
It is possible to rebate squares out of the timber to recess the timber fixing plates, lay the waterproof membrane over the top and use the BalconySeal system on the top for a waterproof installation. The timber plates have been tested to suit domestic balustrade/balconies up to 1200mm high (0.74kN line load to BS 6180). The wood is required to be a minimum width of 100mm and depth of 120mm.