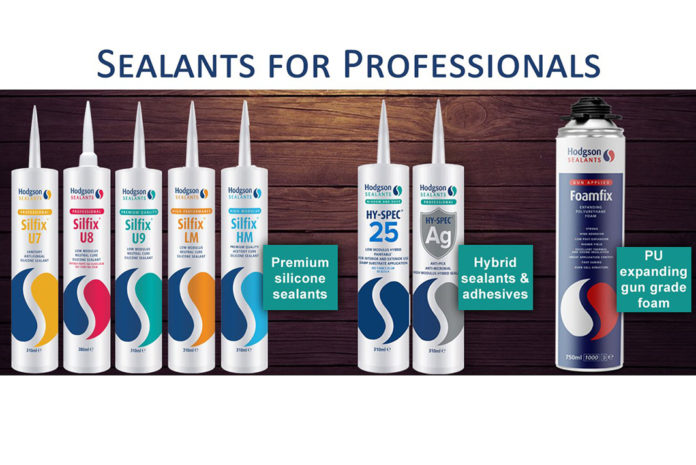 Hodgson Sealants says it has spent much of the last 18 months expanding its range of sealants and solutions for professional window and door installers, along with sealant applicators.
The Silfix range of premium silicone sealants has been expanded with the introduction of U7 which is described as a 'sanitary, high modulus, acetoxy cure silicone sealant and adhesive' which possesses 'exceptional' tooling properties. In addition, Silfix U8 has been launched, a low modulus, neutral cure, solvent free, alkoxy silicone sealant. Hodgson says it It provides excellent application characteristics and 'outstanding' adhesion to a wide range of substrates used in the building envelope.
Hodgson has also developed a range of next generation hybrid sealants in the form of Hy-Spec 25, which among other features, is paintable. The recently released Hy-Spec Ag brings anti-pick properties and an anti-microbial formulation in hybrid form.
Foamfix, which is a PU expanding gun grade foam, along with a cleaner, was also launched at the back end of last year.
Commercial director, Gary Thomas said: "Our product launches have been carefully planned so that both professional installers and sealant applicators can buy into our UK manufactured products with the reassurance of having a complete range of products to hand. 2020 will also see us develop further new products."