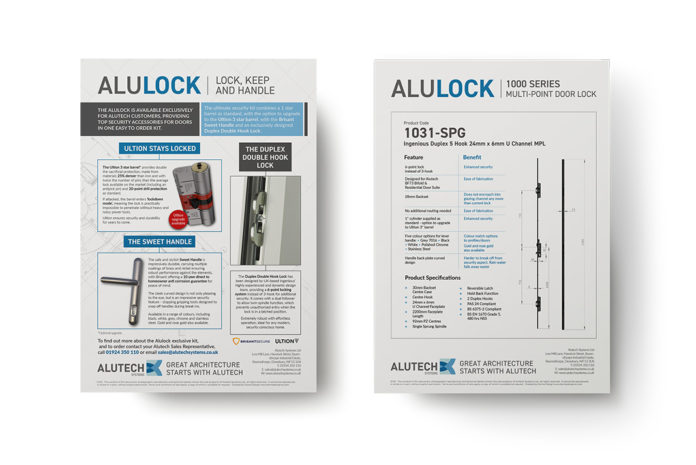 Yorkshire-based aluminium systems supplier Alutech is offering fabricators a new security kit for aluminium bifolding doors – AluLock.
"AluLock is exclusively for Alutech customers, providing a top security solution for their bifold doors in one easy to order kit," said Steve Hudson, Alutech's managing director. The product combines a one-star barrel with the option to upgrade to the Ultion three-star barrel, along with the Brisant Sweet handle and an exclusively designed duplex double hook lock.
"The AluLock kit has been designed to remove the headache for our fabricators of sourcing locking hardware separately and provides premium security and aesthetics to help them differentiate their product above that of their competitors," Steve Hudson added.
The Ultion three-star barrel provides double the sacrificial protection. It is made from materials 25% denser than iron and with twice the number of pins than the average lock available on the market (including an antipick pin) and 20-point drill protection as standard. If attacked, the barrel enters "lockdown mode", making it "practically impossible" to penetrate without heavy, noisy power tools. So confident are they, Brisant will pay £1,000 direct to the homeowner should a burglary take place within ten years from the point of installation and entry was achieved by snapping an Ultion lock. The guarantee can be activated by the homeowner via the online claim form within 28 days of installation.
The Duplex Double Hook Lock was designed by UK-based Ingenious' highly experienced and dynamic design team, providing a six-point locking system instead of three-hook, for additional security. It comes with a dual follower to allow twin spindle function, which prevents unauthorised entry when the lock is in a latched position. Extremely robust with effortless operation, it is ideal for any modern, security conscious home.
Safe and stylish, with its multiple coatings of brass and nickel the Sweet handle is durable, ensuring robust performance against the elements. Brisant offers a ten-year anti-corrosion guarantee direct to homeowners for peace of mind. As well as looking good, the curved design stops gripping tools designed to snap off handles during break ins. The handle comes in black, white, grey, chrome and stainless steel. Gold and rose gold options are also available.
To find out more, download a brochure from the website or contact an Alutech sales representative by emailing or calling 01924 350 110.