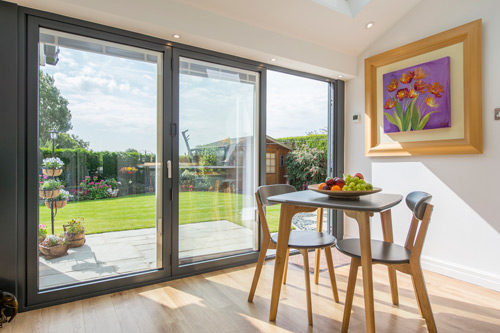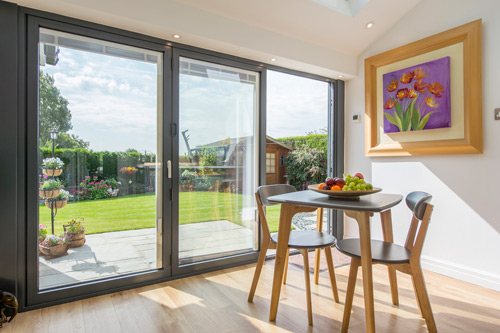 Morley Glass & Glazing has revealed that its ScreenLine cordless sliding integrated Venetian blind system (SL20SV) is now 'smoother, quicker and slimmer'.
The side rail that houses the magnetic operating slider on Uni-Blinds sealed units is now said to be 20% slimmer, creating a larger glass viewing area and a slimmer 40mm profile.
Mounted on the internal face of the glass unit, Morley says the magnetic slider allows 'total control and ease of use' of the SL20SV integral blind. Only one device is used to raise and tilt the slats and the external slider 'logically' moves in the same direction as the blind operating direction. The latest improvements to the system, which has been on sale in the UK for four years via Morley Glass & Glazing, have also allowed the slats to be raised and lowered faster.
According to Morley Glass & Glazing, the SL20SV sliding system provides a low maintenance and contemporary feature for any double-glazed window or door – and is available in 10 different colours, including the exclusive anthracite grey (S159).
The integral blinds are assembled and permanently sealed within the double-glazing cavity which comes with Technoform warm edge spacer bar technology.
The SL20SV's external magnetic slider is also treated with the patented Sanitized anti-bacterial finish, which reportedly provides a long-lasting protective function ideal for domestic and commercial applications.
Ian Short, managing director of Morley Glass & Glazing, said: "The sliders are fitted on all SV blinds in our factory in the UK, which reduces install time on site for installers.
"The operational reliability of Uni-Blinds has been proven in the market for more than 20 years which is backed by a five-year warranty. Uni-Blinds sealed units are supplied in the same way as standard sealed units with just 10-day lead times from any Friday. Uni-Blinds are also backed by Morley Glass & Glazing's excellent after sales service, and the company also offers the UK's largest range of ScreenLine spares."