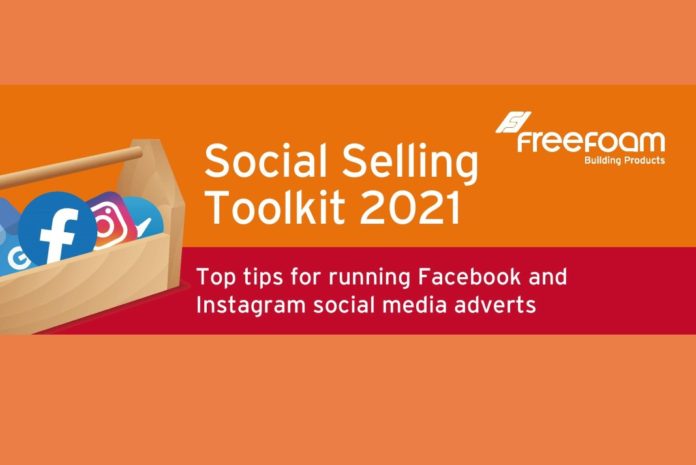 Freefoam Building Products has released a new document of guidelines to help roofline and cladding installers promote their business and services on social media. The step-by-step guide explains how spending even a small amount on social media advertising can make your content and posts go a long way, and aims to furnish business owners with all they need to get started, showcasing the power of social media for enhancing businesses.
The document includes details of each stage of setting up adverts, from information about a free online Facebook course, ideas for how to target an audience, and how to make sure adverts reach the people who will be interested in a particular service. There are tips for adding tracking code, so that Facebook shows adverts to the right people, and advice on scheduling, to ensure that adverts are shown when a chosen audience is most likely to see them.
Freefoam is also developing videos to help better illustrate each stage of the how-to process, and to show installers exactly what to do. Louise Sanderson, UK marketing manager explained: "Using our experience, we find that the combination of a document to follow and videos to illustrate different techniques is the best way of sharing this information with installers."
Being able to promote and sell your business on social media is essential in today's market. Homeowners look at Facebook and Instagram every day, Freefoam argues. Providing adverts to showcase roofline and cladding work while they are browsing is a powerful tool. Freefoam is committed to offering help and support to its network of registered installers and wants to make sure all installation companies have the tools to capitalise on social media's opportunities.
The document can be emailed directly to installers, be included in newsletters and is available to download online, here. The series of videos will be publicised via Freefoam's social media platforms and will be available on the company's YouTube channel.
The Registered Installer Scheme is part of Freefoam's comprehensive support package for all home improvement companies. Support on offer goes beyond great products and guarantees to help installers grow, the company says. The scheme offers a range of high-quality, consumer-focused marketing literature, as well as samples and colour swatches to help the decision-making process. Free, pre-qualified leads, generated from Freefoam's consumer-facing websites, myfascia.co.uk and mycladding.com, are also included. If you are interested in becoming a Freefoam Registered Installer, visit www.myfreefoam.com/installers.