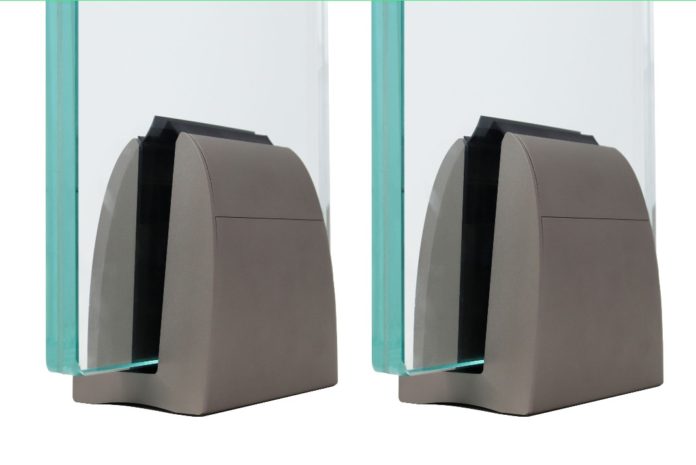 Pure Vista has launched its Spig-Lite Advanced, which it describes as being 'the easiest balustrade system to install'. Mechanised by a screw-clamp adjustment device, each panel of glass in the Spig-Lite Advanced system can be horizontally adjusted once in position, guaranteeing an accurate installation and flawless finish.
The product can be used for domestic installations where up to 0.74kN force loading capability is required, for example, as an elegant swimming pool fence, an aesthetic way to achieve a low-maintenance safety barrier around a pool. It can also be a popular choice for garden screening, creating garden zones or defined walkways through an outside space that allows light to penetrate and views to be maximised.
"The Spig-Lite Advanced product is an evolution of the previous Spig-Lite Pro system we offered," said Adam, Pure Vista's director. "The Spig-Lite Advanced system has a new hex key system, does away with our previous spanner and ensures accurate alignment and adjustment of each glass panel and the correct installation torque every time, with the use of a torque wrench.
"The Spig-Lite Advanced, being a spigot style system, has a variety of benefits over traditional channel systems, with only two spigots per 1mtr of glass, gives a testing load of over 0.74kn/mtr. It also gives free drainage of water and debris, such as leaves under the glass, more view at the base of the glass, and a far simpler installation, with less holes to drill and using an M10 bolt results in easier drilling. Moreover, the Spig-Lite Advanced has an optional waterproof drain block system available, to prevent water ingress when installed on waterproof membranes similar to that of our patented Balcony Seal product. For an easier, cleaner balustrade why look any further."
Mark, another director for Pure Vista, added: "We have spent some time working on bettering the previous Spigot system. We have managed to reduce the weight and keep the product very strong, which has enabled a cost benefit we can pass on.
"The system is adjustable, allowing for perfect alignment of the glass, which we have managed to change to a hex key fitting for easier access. The product looks fantastic on decking but has been coloured to match most materials. With just two Spig-Lite Advanced units needed per 1000 wide glass, more light can pass through the system. It's free draining and, with only one bolt per spigot, they are quick to fix."
Features and benefits of Spig-Lite Advanced:
• Fast and easy to install
• Accredited to 0.74kN to BS 6180:2011
• Suitable for a range of glass types
• Small and compact system
• Hard wearing
• Highly adjustable
For more information about Spig-Lite Advanced, visit pure-vista.com .