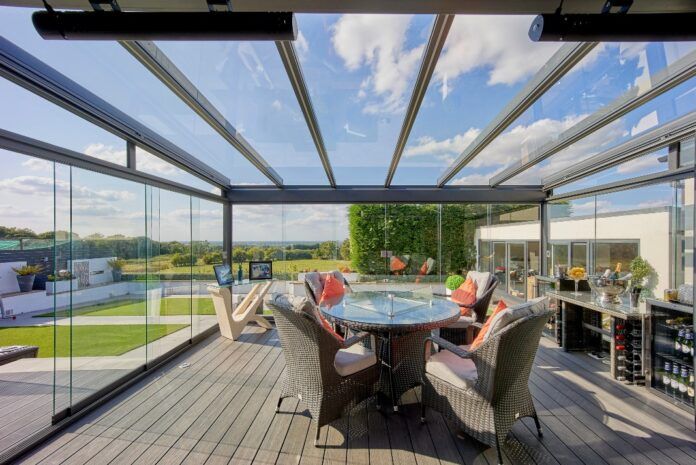 Spring is the perfect time to think about preparing outdoor spaces for the summer months ahead. But while the great British weather cannot be relied on, a glass room from CRL can provide the perfect solution, according to CRL's representatives. CRL's glass rooms feature 'an intelligent modular design'. The aluminium structure means that very few supports are needed, they say, even over large areas.
"The innovative connectors give a high degree of flexibility with many variations possible, while optional extras including sliding doors, vertical blinds and ceiling blinds make it simple to create a unique space that can be enjoyed throughout the seasons," said CRL's representative. "It was the all-weather element of the glass room that led to it being chosen in a residential property in Poynton, with the owners wanting to make the most of their garden year-round. They called on CRL and the team at Cheshire Bespoke Glass and Doors in Poynton to help open the outside space while protecting it from the weather and retaining the gorgeous views of Winter Hill and Manchester in the distance."
The system's modular design enables the glass room to be configured to suit any space, from simple rectangles to more complex L-shape designs, the representative added. Drainage is integrated into the post, with rainwater channelled through the gutter into the drainpipe. The front profile of the post can be removed using a clip system to allow easy access to the drain.
All rafters come with integrated channels for fitting lighting and attaching motorised awnings. Available in a range of standard RAL colours, CRL's glass rooms have a maximum projection length of 6m.
"The sleek, lightweight look of the aluminium combined with the robustness and longevity of the material make CRL glass rooms the perfect way to add an attractive shelter to a garden on any style of property," explained CRL's representative. "The homeowners in Poynton opted for bi-parting doors to the front of the glass room and sliding doors to the sides. LED lighting means the homeowners can make use their glass room in the evening whilst the electric roof blind protects them from the bright sunshine." Find out more at crlglassrooms.co.uk.