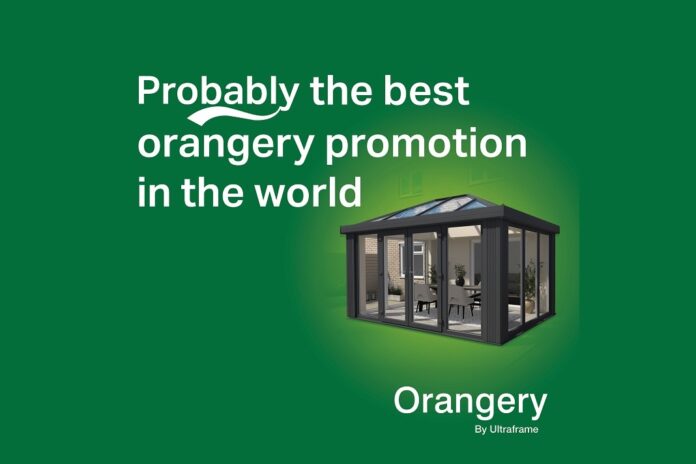 Ultraframe has launched an orangery range that offers a wide choice of energy-efficient styles at a 20% saving, the manufacturer's representative has reported. The range also features a slimline Ultraframe glass roof coupled with an internal pelmet, to give the illusion of a traditional orangery build.
"On the exterior, a choice of aluminium, brick mesh, or ready-to-render columns can be paired with any style of doors and full-length windows, along with a choice of decorative cornices," explained Ultraframe's representative. "The columns are an optional feature but when the roof is ordered, customers can save 20% on the roof, glass and aluminium columns compared to the price they would usually pay. This means that the new orangery by Ultraframe offering makes modern orangery technology more affordable and accessible to homeowners."
Alex Hewitt, Ultraframe's marketing director, said: "Many people shy away from glass roofs as they are unaware of the huge advances in technology over recent years, which means they perform incredibly well in terms of thermal efficiency. It is also true that many people still associate a glass roof with a typical/traditional conservatory in terms of style. But glass roofs these days can be used in many more creative ways, as this stunning, contemporary 'Orangery by Ultraframe' range perfectly demonstrates. Due to these misconceptions, we felt it was important to help people navigate our products and create a compelling promotional offer that is easy to sell and understand.
"The 'Orangery by Ultraframe' offer is, in essence, the modern version of a conservatory. This is the first time we have done a national price offer on orangeries and prices are reduced on the roof, the glass, the aluminium columns, pelmet, and cornice. It's very comprehensive and generous, which means that installers can offer the orangery look at a far most cost-effective price point than if they did a traditional orangery build."
The 'Orangery by Ultraframe' range includes options that are marketed as being 'sure to appeal to conscientious homeowners looking to enhance their homes'. To find out more about 'Orangery by Ultraframe' range, visit trade.ultraframe-conservatories.co.uk.
Earlier this month, Assent and JHAI approved Ultraframe's 'hup!' building system. Read more on that story here.