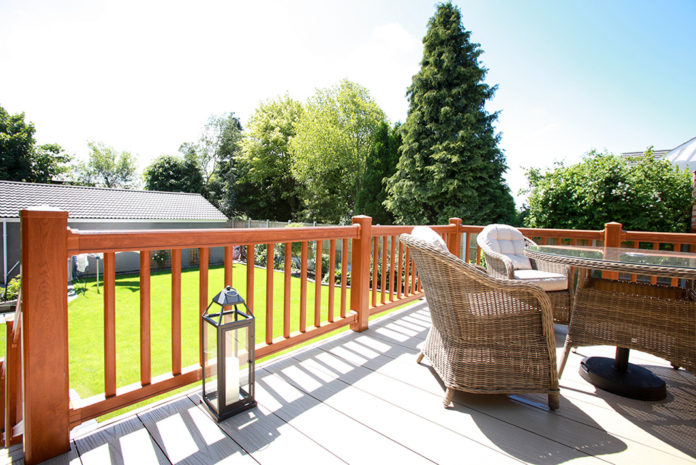 Liniar says that its outdoor PVC-U range of decking, fencing and piling products, are 'all the rage' with environmentally conscious property owners as they are all fully or partially recycled and can be recycled again at the end of their useful lives.
Liniar's decking range is reported to have been around for nearly 30 years and can be found everywhere from businesses, playgrounds and gardens throughout the country to holiday home parks both here and in Europe.
While the Liniar decking range already includes decking kits and different types of decking, the range is expanding even further in 2020 with a new 150mm double-sided deckboard – SwitchBoard.
Mark Sims, Liniar's outdoor products sales director, said: "In line with customer demand, we've developed a more realistic type of 'timber alternative' deckboard, which we believe will be popular with customers existing and new.
"The boards are narrower than our 225mm range, more like traditional timber decking, and they're double-sided, giving a choice of finish options. Our unique 'QuickClip' fixing system enables fast and easy installation too."
Liniar's new Switchboard launches with one ribbed timber-style side and a woodgrain pattern on the reverse, both tested for slip and wear resistance and all with the same low-maintenance properties as the existing Liniar decking range.
The Liniar decking range also features a fully matching balustrade system, accessories like stairs, gates and lights, as well as a galvanised steel sub-frame for a fully maintenance-free installation.
Like the decking range, Liniar fencing is manufactured from partially recycled PVC-U and it comes in three different finishes – plain PVC-U, composite and woodgrain foiled. The system comprises of posts and panels that slot together – and there are also curved tops, gates and even lamps available to add extra elements.
"Our fencing range is extremely popular in the domestic market, as well as commercial applications," commented Mark. "Despite being made from PVC-U, its twin-walled design makes it surprisingly strong. It is designed to withstand the harsh British weather and is incredibly easy to install – making it a favourite for DIY-ers."
Liniar's piling range is fully recycled and recyclable and, according to Liniar, is being used 'throughout the world' as retention, flood prevention and in conservation efforts, amongst 'many more uses'.
Customers are said to include the National Trust, the Environment Agency and utility companies.