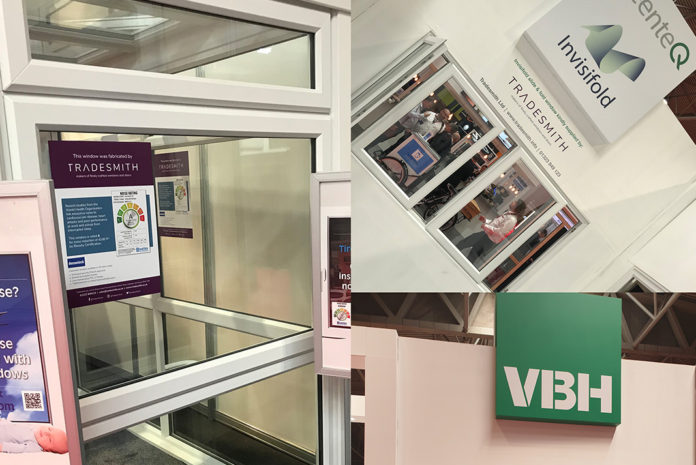 Tradesmith, the Hailsham-based trade fabricator, says that it displayed 'probably' the two most interesting windows at last month's FIT Show.
The first was an 'A' rated acoustic Deceuninck window on Bluesky Certification's stand. Two identical samples formed part of a unique soundproof booth. Designed for superior acoustic effectiveness, the windows created a corner of 'near-silent tranquillity' in the hustle and bustle of the exhibition.
Certification body, Bluesky, used the show to highlight the impact of noise on our everyday lives – and how fitting the right windows can make a big difference. Similar to the familiar energy-rating system with its rainbow labels, Bluesky rates windows according to their effectiveness in blocking out noise. Windows are graded 'E' up to 'A++' for the most effective at blocking out noise, so homeowners can buy the right level of protection to exclude the noise they suffer. The Tradesmith windows used for the booth were both acoustic 'A' rated.
"Few people are aware of the harmful effects of noise on our health and well-being, but the impact can (literally) be deadly according to the latest research," said Bluesky managing director, Simon Beer. "It was amazing to see the reactions of people going into the booth. They could hardly believe windows could make such a big difference. With urban areas getting busier – and louder – noise cancelling products will become more important in the future."
The second Tradesmith-fabricated window was featured on hardware-supplier VBH's stand. The Invisifold casement window was fully operational, so visitors could see its unique benefits in action. Invisifold is a revolutionary system that converts existing windows and doors into individual panels that can slide and fold to leave a large unobstructed opening.
Gary Gleeson, marketing manager of VBH, said: "When we needed a window for the FIT Show to demonstrate our new concealed Greenteq Invisifold casement hinge, the team at Tradesmith were only too happy to help. They supplied us with a stunning three pane Invisifold casement window on Deceuninck profile, which saw a lot of action over the three days of the show.
"VBH and Tradesmith have a healthy relationship that goes back over 20 years. As well as Invisifold, Tradesmith uses furniture from our mainstream Greenteq suite of products and Coastline stainless steel range with its 25-year guarantee. It's a strong partnership."
Tradesmith managing director, Mark Hutchinson, commented: "People couldn't leave either window alone. They'd never seen anything like the Invisifold window, and they'd never come across acoustic windows that really did block out loud noise. We got a lot of interest in both!"