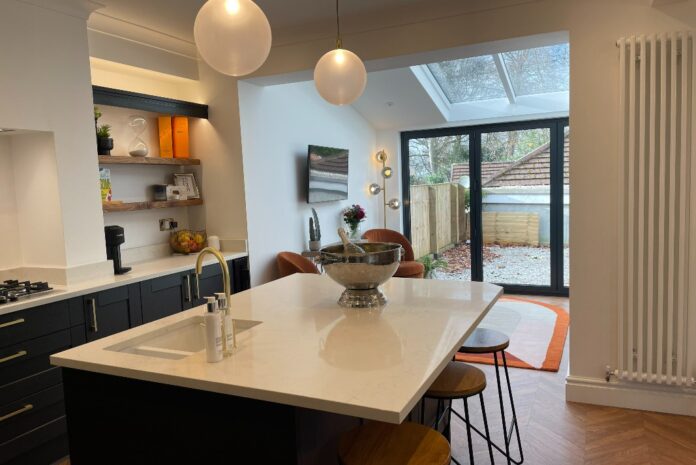 Ultraframe has launched a new package of tools designed to help retail installation companies sell its 'hup!' building system. The package includes a retail brochure, a sales presentation and an explanatory video, all accessible via the Ultraframe sales app.
Alex Hewitt, Ultraframe's marketing director, said: "The response we've had to 'hup!' since we launched it at the Fit Show has been phenomenal. We have already hosted a series of open days and training days – all of which have been oversubscribed – and we're delighted to provide this extensive package of sales tools to those who are now trained and ready to sell 'hup!'."
The 'hup!' retail brochure explains to a homeowner why 'hup!' is the better way to build by detailing its core USPs using jargon-free terminology, clear diagrams and imagery of 'hup!' extensions, conservatories and transformations. The sales presentation sets out to be ideal for use in sales appointments either at home or in a showroom. It explores the reasons why a homeowner may want to extend and typical concerns. The 'hup!' video demonstrates a build, step by step. It sets out to show the many different options that can be created on the same footprint, offering a mix of information and inspiration.
For people wanting to find out more about the 'hup!' building system, Ultraframe has announced the next set of open day dates based at its Clitheroe headquarters. These will take place on 6 and 20 September, and on 4 and 11 October. The open days are designed to offer a fantastic opportunity to get hands on with 'hup!' and to learn about everything from surveying and specifying, right through to installation. To register for an open day, visit bit.ly/3SCtqE1.
Alex added: "We would urge anyone interesting in learning more about 'hup!' to book their place quickly on the upcoming training and open days. as spaces have filled up fast on previous dates. For those who are now ready to sell 'hup!', remember that our sales package is a real hardworking asset and one that we will be enhancing with further items over the coming months."