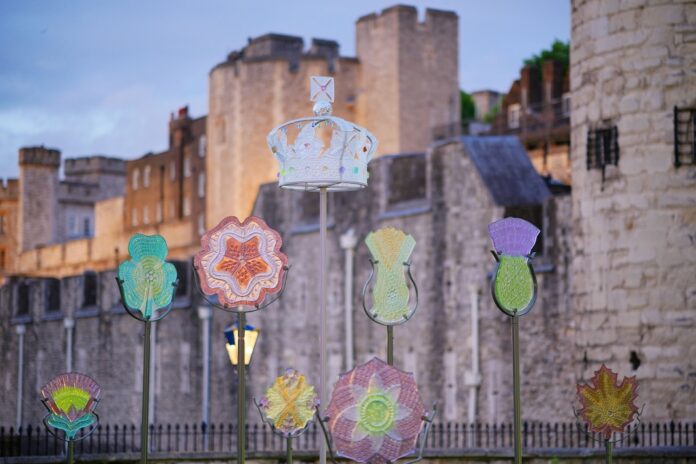 Eurobond Adhesives has collaborated with British glass artist Max Jacquard on an installation in the 'Queen's Garden' at the Tower of London. The installation, which is part of a platinum jubilee display called 'Superbloom', was commissioned by Royal Palaces. It features 12 large-scale commonwealth symbols and one crown.
The glass designs were inspired by the embroidered motifs on the Queen's coronation dress, which was created in 1952 by Norman Hartnell and had a crystal crown as the centrepiece. Each sculpture was encircled by flowers and a planting scheme to attract bees, pollinators and seed-eating birds. Kevin Henry, one of Eurobond Adhesives' technical managers, offered advice, support and training on the correct Eurobond UV curing glass bonding adhesives and curing equipment to use for the project.
A total of 3,517 jewels were modelled in wax with over 7,623 pieces press moulded for the 700mm-high sculptures in coloured glass. The project had been planned for several years and was conceived by Historic Royal Palaces, the charity responsible for the Tower of London.
Based in Kent at a studio he shares with his partner, artist Dawn Bendick, Max Jacquard was chosen to create the centrepieces, working closely with Nigel Dunnett, the head gardener for the Superbloom event. Dawn said: "The work included casting a series of open cast moulds and bending them to form the structure of the crown.
"Eurobond products played a huge role in both the fixing of jewels to the crystal crown and the fixing of the coloured glass pieces to their metal cradles. We could not have managed the project without these products."
Each work of art is set on cradles mounded on steel rods sitting 5 metres above the garden. Max's studio painstakingly produced thousands of glass imitations of diamonds, cords and pearls for the sculptures. The project took three months with a full-time team of five people.
Superbloom is set in a space that was originally built in the 13th century to keep people out of the Tower. The display opened on 1 June and will continue until 18 September 2022.