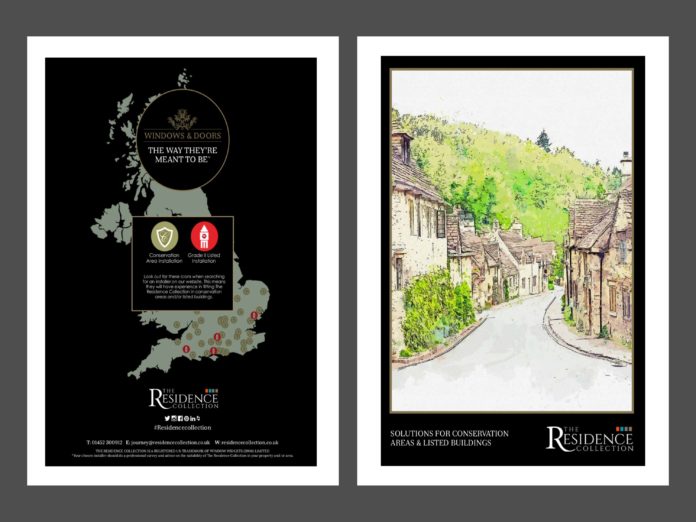 The Residence Collection has published a 20-page brochure outlining solutions and design credentials for conservation areas and listed buildings. According to the company, Residence 9, or R9 as it is known, is the most authentic timber alternative casement window, offering revolutionary product design and specification. The profile dimensions replicate the documented window designs of the 19th century to the nearest millimetre, while the frame rebate is free of gaskets. It is also fully foiled in the rebate with single and dual colour options.
While R9 may well take the limelight for its period credentials, R2 and R7 have also been used in conservation area applications, given the fact that from the outside they share the same equal sightlines. In these cases, local authority planners have fully backed The Residence Collection as a true timber alternative window and door system, according to the company.
A traditional Georgian bar, deep nose Radlington cill and period inspired hardware, including working and dummy butt hinges, add to the historical features within The Residence Collection product proposition. The company describes its product platform as packed with detailing, offering an increased number of chambers for sound reduction and energy efficiency.
Case studies support the new conservation area and listed building brochure, which can be downloaded here. The company also offers a new R9 brochure.
Sarah Hitchings, the Residence Collection's sales and marketing director, said: "This updated publication clearly shows our credentials when it comes to projects involving conservation areas, listed buildings and article four directions. With the new conservation brochure, case studies and R9 brochure, along with those for R7 and R2, it provides all the information to present to local authority planners, so that they can specify what is the most authentic timber-alternative system."
For further information about The Residence Collection visit www.residencecollectiontrade.co.uk. You can request a free brochure pack by emailing trade@residencecollection.co.uk or by calling 01452 348 650.