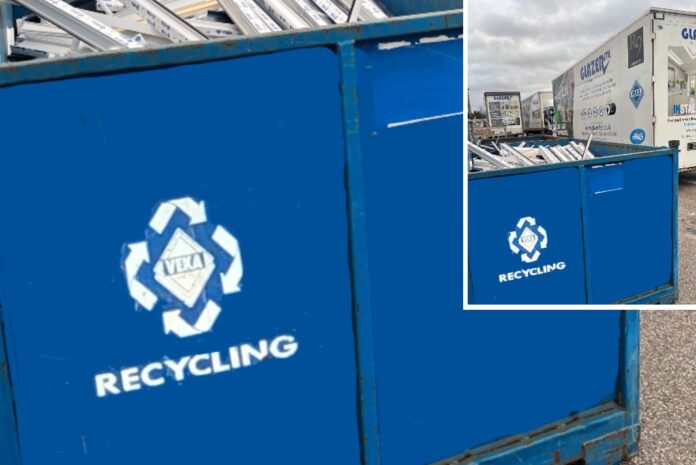 Veka, Glazerite UK Group and Veka Recycling have agreed a deal for virgin offcut material and limited volumes of post-consumer frames to be collected and recycled, modelling a truly circular process. Virgin offcuts from Glazerite's Wellingborough, Peterborough and Bolton manufacturing operations, in addition to frames removed from selected installation sites, are to be collected and returned to Veka Recycling's advanced PVC-U reprocessing facility in Wellingborough. With Veka PLC's Burnley extrusion facility now a large volume user of recycled pellet from its sister organisation, much of the material returned from Glazerite may be returned to them in the form of brand-new profiles for manufacturing into new windows and doors.
Darren Rhodes, managing director of Glazerite's north west division, led the negotiations for the new contract. "Inevitably there are offcuts from the production of new frames, despite Glazerite using advanced manufacturing techniques throughout our facilities," he explained. "But this material remains intrinsically valuable. We also have agreements on a number of installation sites for which we support installer customers, by removing old frames from site.
"Veka Recycling has provided a solution for Glazerite and our customers by efficiently removing the material through bins placed at our sites. This reduces disposal costs and contributes significantly to Glazerite's commitment to reducing the company's carbon footprint. It also enables us to support our customers by providing recycling facilities, now a commitment demanded by public sector and larger landlords for refurbishment projects."
Collection bins are placed at Glazerite's factories and at sites such as the eight-storey housing project being installed for Warrington Borough Council housing by Glazerite customer K2 Aluminium Systems. The products are then returned directly to Veka Recycling's Wellingborough site for reprocessing. The PVC-U Pellet is quality inspected before it is extruded into new products such as new window and door frames at Veka PLC, Glazerite's principle system supplier.
Stuart Stockley, Veka Recycling's managing director said: "We have the most advanced PVC-U recycling facility in Europe which produces the highest quality PVC-U pellet whilst our central location also contributes towards carbon reduction by ensuring all processes are completed within the UK. The loop between extrusion through fabrication, installation, recycling and back to extrusion again is perfected by this arrangement, and one that we will work towards repeating."