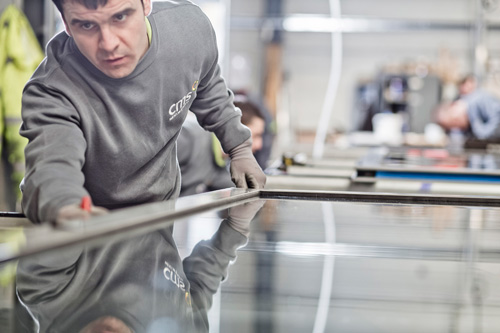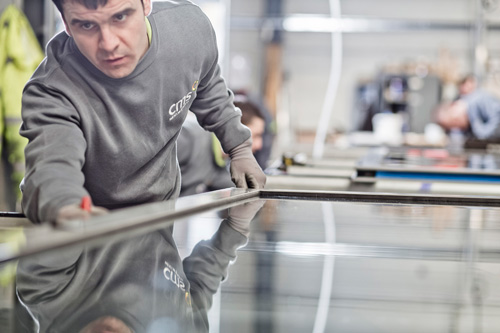 CMS Window Systems, the Scottish designer, manufacturer and installer of windows, doors and curtain walling, says it as, once again, been named as 'one of the best British businesses with excellent growth potential', by making the 'Top 1000 Companies to Inspire Britain' 2017 report published by the London Stock Exchange Group (LSEG).
It is the second year in a row that the company has featured in the report, which is described as a 'celebration of the UK's fastest-growing and most dynamic small and medium sized businesses across the UK'.
Based near Glasgow, CMS Window Systems has grown rapidly to employ more than 250 people in just over a decade. It says it has established a 'unique position' in the UK fenestration market through its highly sustainable, 'closed loop' approach to business and client projects. It also provides employment opportunities and supports the local communities in which it operates.
CMS claims to manufacture all its energy efficient windows, doors and curtain walling products in a 'resource efficient' way, with landfill waste 'virtually eliminated'. It also recycles all the windows and doors it extracts during replacement projects. These post-use products are separated into their constituent materials at CMS's two recycling plants, ensuring waste PVC, timber and metal is re-processed rather than being simply sent to landfill.
CMS is one of 41 companies in Scotland to make the Top 1000 Companies to Inspire Britain report, and one of only a handful in the windows, doors and building envelope sector. This recognition comes only a few weeks after CMS was awarded the prestigious Queen's Award for Enterprise for its sustainable management achievements.
Andy Kerr, managing director of CMS Window Systems, said: "We're delighted to be named as one of the UK's most inspirational companies again. It's high-profile recognition of the whole team's continued hard work and an independent confirmation that our business development is on track as the demand for genuinely sustainable, high quality windows and doors continues to grow."
Commenting on the report, the Rt Hon Greg Clark, Secretary of State for Business, Energy and Industrial Strategy said: "I want to congratulate the 1000 companies from across the UK featured in London Stock Exchange Group's pioneering 1000 Companies to Inspire Britain report. Championing high growth innovative SMEs is crucial for the continued success of the UK economy and a country that works for everyone."
Based at Castlecary near Cumbernauld, CMS Window Systems is one of Scotland's fastest growing manufacturing businesses. Operating from a 15-acre main manufacturing and recycling facility and HQ, plus its branch in Kirkcaldy, the company provides social housing providers, housebuilders and developers with a range of high performance windows, doors and curtain walling solutions designed to maximise energy efficiency, reduce carbon emissions and deliver comfort for householders and building users.