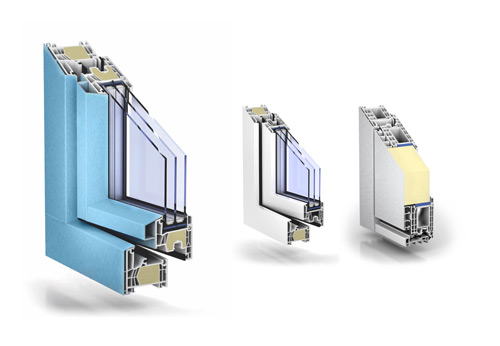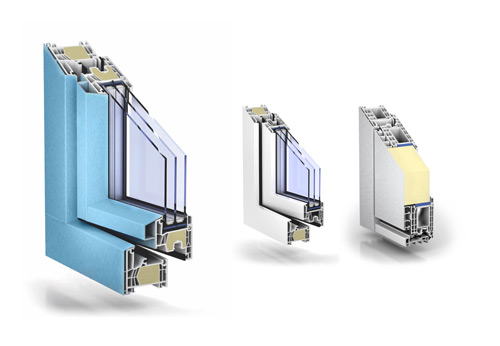 The launch of System 76 by Kömmerling at the FIT Show earlier this year, also extended to the development of a range of Passivhaus options for windows, residential doors and large span lift and slide doors, as the company looks to redefine standards of PVC-U profile performance.
For many years, says Kömmerling, Passivhaus meant window systems 85+mm in depth, but now with cutting edge design and the use of pre-foamed proEnergyTec profiles, the standard of 0.80W/(m2K) or better, can, according to Kömmerling, be easily achieved. Indeed, the centre seal variant of System 76 can reportedly achieve a 'Uf'value of 1.0W/(m2K) as standard, with a Passivhaus capability 'Uw' value of 0.73W/(m2K).
There are also a number of new hybrid designs from Kömmerling which are said to bring together the 'architectural appeal of aluminium, with the energy efficiency and cost effectiveness of PVC-U'. The latest AluClip Pro variant has been independently tested by ift Rosenheim achieving a 'Uw' value of 0.69/(m2K), with a flush fitting exterior aluminium section, which also offers additional structural rigidity.
As part of a range of Passivhaus options, a new inward opening residential door has been added to the range of AluClip Zero products, with a design that adopts a unique floating panel, to cope with the extremes in temperature across Europe. The renowned lift and slide PremiDoor 76 has also been independently tested achieving a UD value of 0.76W/(m2K) and again with the offer of the AluClip, aluminium exterior.
Brian McDonald, commercial manager of Kömmerling, has been involved in the introduction of these new Passivhaus products, with the company eager to open up new opportunities with architects and building specifiers. He commented: "Our range of Passivhaus solutions are unsurpassed in such a shallow frame depth, which is beneficial for the installation process, building design and for obvious commercial reasons. The proEnergyTec technology is also fully recyclable unlike most foam inserts, which further enhances our sustainability credentials."
He continued: "With the broad range of hybrid options, we firmly believe that we are now offering some game changing products for fabricators, architects and all building professionals."