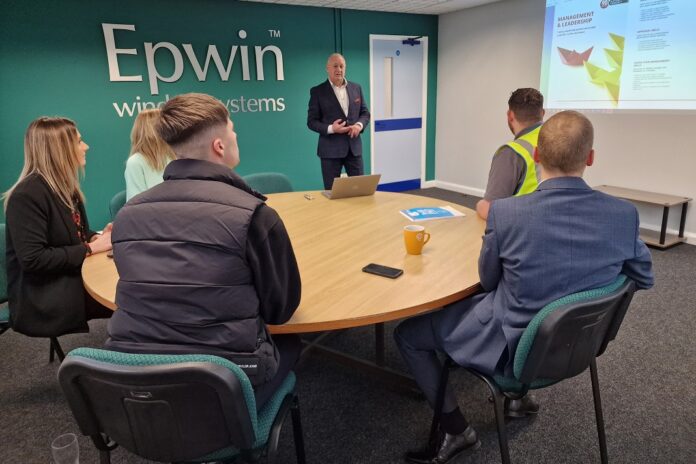 Epwin Window Systems continues to invest in the career development of its staff, aiming to showcase the value of a career in fenestration. The systems company offers a wide range of apprenticeship courses for employees at all levels.
Eight traditional apprentices and 12 development apprentices are currently working within the business. Over the past two years, six apprenticeships have been completed.
Lee Cattermole, Epwin's learning and development manager, said: "Fenestration is a dynamic industry and there are plenty of opportunities for a fulfilling and rewarding career. We are developing a range of training strategies across the business with a structured career progression path to attract and develop the next generation of talent. Developing people through high-quality apprenticeships and workforce strategies is proven to be good for employers and employees alike."
As well has his day job at Epwin, Lee has also been involved in awareness raising work to promote the value of technical careers. In December he spoke at an event organised by the Greater Birmingham and Solihull Institute of Technology about the new engineering and manufacturing higher technical qualifications.
He added: "I've been actively involved in supporting the development of the institute who are delivering higher technical qualifications at levels 4 and 5 for the past four years. The Institute is a world class facility where collaboration, innovation and outstanding support for science, technology, engineering and mathematics education come together under one roof and it's accessible by any employer. Maintaining the link between the Institute and Epwin Window Systems will play a key part in ensuring that we have access to advanced technologies where needed for our future success."
He is in talks with the Black Country Institute of Technology about how Epwin Window Systems supports fenestration skills for modular build. Lee continued: "Epwin Window Systems is a large local employer and building partnerships like this is good for our business and for the wider industry."
Lee also sits on the advisory panel of Building Our Skills. He said: "Building Our Skills is an incredibly important initiative because it works to bridge the growing skills gap. It works closely with employers and other organisations to attract new entrants to the industry and upskill the existing workforce. The aim is to inspire them to see the industry as a home for their long-term career ambitions."