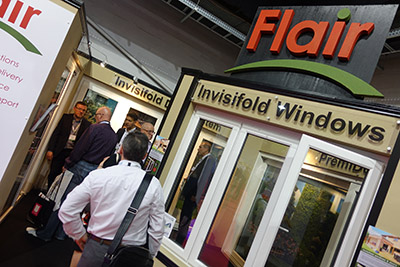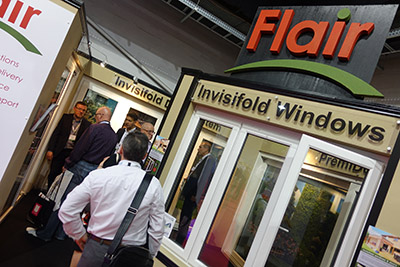 Flair Plastic Products has reported its 'best ever FIT Show' thanks to a number of innovative products from Kömmerling, including the new PremiFold slide and swing window and door system, PremiLine PRO patio door and the lift and slide PremiDoor 88.
Taking centre stage on the stand was the new PremiFold slide and swing window, which harnessed standard C70 Gold profiles, with no visible hinges and hardware. The door variant of this system was also on show and has already achieved PAS24, much like the PremiLine PRO patio door on display, which incorporates a clever hidden locking mechanism at the interlock, thereby removing the need for any unsightly plunge bolts.
The PremiDoor 88 is said to bring true large-scale spanning applications to life, with far more glass area than bi-folding doors, boasting spans up to 6.5m with just two sashes. Collectively all products on display at The FIT Show along with the standard C70 and O70 Gold window and door systems, make for a broad product range offering from Flair.
Adrian Keegan, sales manager of Flair Plastic Products, commented: "The show was really exciting for us with all the new products on display and we're thrilled with the quality of leads generated. We have an outstanding product range thanks to Kömmerling and with our fantastic levels of service and support we're proving to be a great business partner for forward thinking installers."