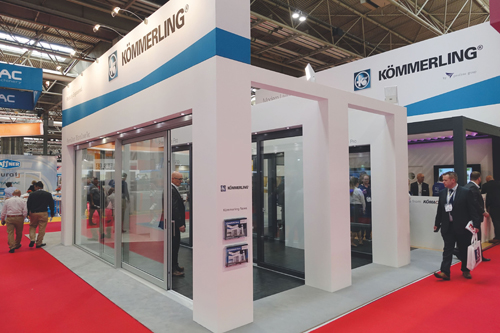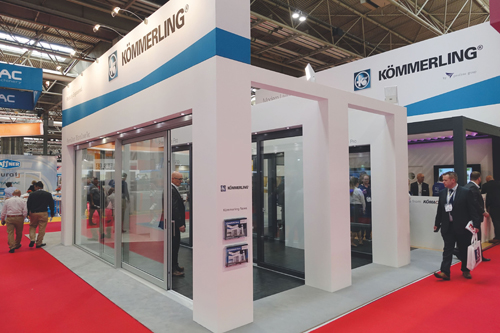 Kömmerling says it used the FIT Show as a platform for the launch of its new six and seven chambered 76mm window and door system, offering what it claims are 'unrivalled' Uf values, Passivhaus levels of performance and other technologies, with a number of PVC-U/aluminium hybrid options also on display.
Given the prominence of the UK market for parent company profine Group GmbH, CEO and owner, Dr Peter Mrosik, visited the stand on day one, eager to meet staff and customers, before heading off for a media interview with several editors. But new products were very much to the fore on the stand, as the German systems company aimed to 'further fuel its reputation as a true product innovator in the UK PVC-U systems sector'.
To the front of the stand, a 6m x 2.5m lift and slide PremiDoor 76, with the 'pioneering' proCoverTec surface finish technology, showcased the emerging sector for large span patio doors and the means to add water and dirt repellent properties to PVC-U profiles. A four-pane PremiLine Pro with Secured by Design status was also on show, which is a patent-protected patio door system with unrivalled security credentials, thanks to the clever locking mechanism at the interlock.
A 'defining talking point' of the stand was the 'world first' preview of PremiSlide, an 'innovative' flush fitting patio type door with compression gaskets, reportedly 'unrivalled' weather performance and 'soft close' technology.
The FIT Show also saw the emergence of PVC-U/aluminium hybrid systems, something Kömmerling has championed in several European markets in recent years, with System 76 French doors on show, one with proCoverTec and the other an Irish Oak/AluClip Pro hybrid option with a flush exterior, both offering a unique tilt option.
A slide, swing and fold PremiFold 70 door set was also on show along with a number of System 76 and C70/O70 Gold cross sections, on what was a very busy stand throughout the show. Visitors included existing customers in the form of both fabricators and installers, along with several high profile commercial specifiers. Finally, the new Kömmerling Pergola formed part of the reception area on the stand, a product for the outdoor living sector with opening louvres, integrated spot lights and mood lighting.
Kevin Warner, head of sales and marketing for Kömmerling, concluded: "The FIT Show was a resounding success for us and the response from our new product innovations was somewhat overwhelming. We're equipping our customers with unique glazing solutions, harnessing surface finishing and hybrid technologies and offering a new 76mm platform with immense performance characteristics."