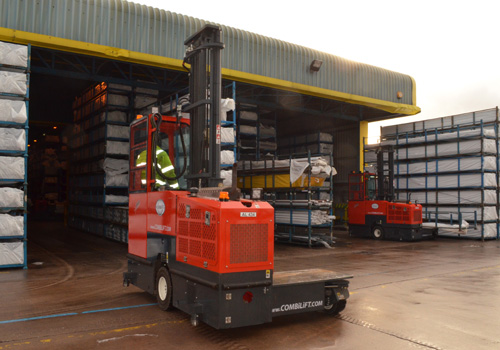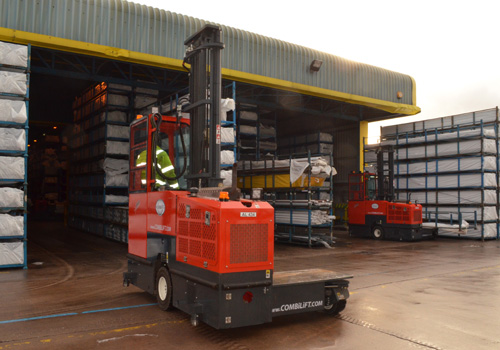 The Telford site of the Epwin Group Window Systems Division has recently taken delivery of its second large fleet of Combilift forklifts to replace its first consignment, which saw seven years of reliable service.
The seven 3t capacity C3000 GST stand-on models incorporate a number of bespoke features to ensure that Epwin's operational requirements are more than fulfilled.
The Epwin Group, which manufactures complete profile systems for windows, doors, curtain wall and conservatory products, uses more than 30 Combilift models across its various sites.
The majority of materials handled at Telford are 6m long stillages of profiles weighing between 600kg to 1,250kg, which are stored in a 50,000ft² warehouse and 25,000ft² outdoor storage areas and undercover bays. The high bay and high density racking in part of the warehouse requires machines able to work in narrow aisles, and Combilift's GST models are described as a perfect fit, allowing aisle-widths to be set at just 2,150mm.
According to Distribution and Warehouse manager Chris Follows, the Combilifts were the obvious choice for the fleet renewal due to the very dependable operation of the previous models – one of the older trucks is still working flawlessly with over 12,000 hours on the clock.
"This is not only down to the trucks' manufacturing process and robust build," said Chris, "but is also testament to the meticulous maintenance of our suppliers Allways Forktruck Services, whose engineers provide top notch service and are on call whenever we need them."
With a 24/5 shift operation, plus 12 hours on Saturdays and Sundays, constant availability of trucks is crucial and the LPG power option was chosen for the GSTs.
Five of the seven trucks are new style GSTs which have a lower exhaust and gas bottle position which offers even better visibility for the operator. The cab is also larger than on previous models and the foot pedal has been repositioned for enhanced ergonomics. Other customised features include a safety interlock on the mast, and fork lengths of 1,100mm which accord to the depth of the stillages to avoid any risk of forks protruding through the racking.
The advantages of the stand-on design of the new trucks together with a guided aisle system and 8.3m lift allow for optimum storage capacity and speedy operations. Drivers can get in and out of the cabs quickly and the guide rollers enable easy access into the aisles. Chris is also impressed with the GST's all weather capabilities which enable ongoing operation even during periods of ice and snow. "The combination of Combilift reliability and service from Allways has delivered just what we need to keep our materials on the move," he said.