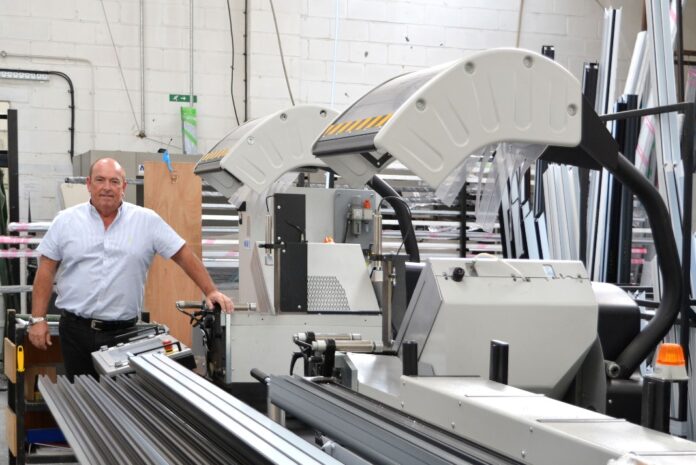 Alu-Tec has invested in new production space and equipment, in a move that is said to reflect cautious optimism in the aluminium sector, despite rising inflation and the ongoing cost of living crisis. The commercial fabricator in Southend plans to increase its output of AluK products, seeing as demand remains relatively strong at the higher end of the market.
Boosting the company's current factory area (11,500ft²), an extra 5,800ft² of production space has been added. The new space is dedicated to bi-folds and patios, leaving the remaining space for fabricating windows and doors. A new bead saw setup has also been installed to increase beading capacity. A further saw has been ordered for facilitating larger profiles such as curtain walling.
Phil Bates, Alu-tec's director, explained: "We've seen consistent growth over the past eight years as our reputation has grown for quality windows and doors in AluK, backed up by a wealth of knowledge and industry experience. The excellent relationship we have with AluK, and the scale and efficiency of our operation means we can always offer high-quality products at competitive prices, so, even if demand does start to falter, we have every reason to be confident about what lies ahead."
He added: "We still have big ambitions to increase the amount of commercial work we take on, as well as welcoming new trade customers and showing them why Alu-tec and AluK are the right supply partners." As well as the investments in its factory, Alu-tec has appointed a new estimator and order processor to support trade and commercial buyers, and the business has extended its office to accommodate four further new staff members going forward.
Phil continued: "We work very closely with the whole team at AluK, which means we are always quick to introduce new product options and we get great support when it comes to targeting new business opportunities right across the product portfolio. Later this year, we'll be introducing the AluK SL52 curtain walling system, which is already well proven in the commercial market, and will be amongst the first to launch the new AluK patio door to the trade."
Alu-tec is part of The Climatec Group. Together with PVC-U specialist company Climatec Windows, it aims to provide a one stop shop for customers across the UK.