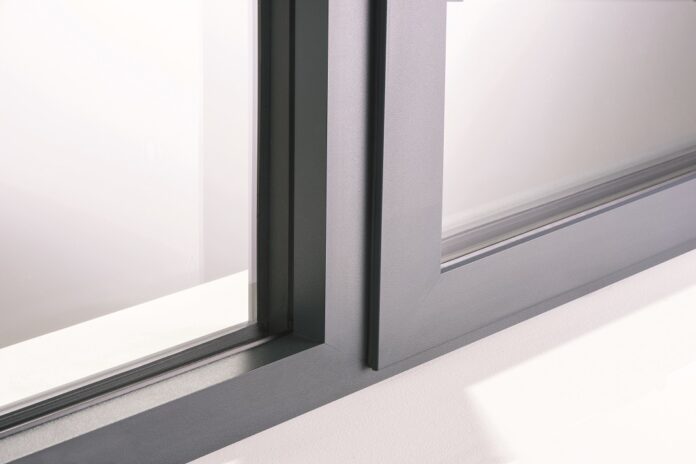 Apeer has launched a range of slimline aluminium casement windows under its Silka brand – the name under which the company originally introduced its top-selling range of GRP-faced residential doors. The non-standard product development followed demand from homeowners who were impressed by the surface coating used on Silka residential doors and wanted the same treatment for windows, according to the firm's representatives.
The name 'Silka' originally referred to Apeer's specially developed coating that was created for homeowners wanting a good-looking, reasonably priced residential door to go with new aluminium windows. Since then, it has been developed into a significant sub-brand of Apeer, with a wide range of door styles, its own dedicated factory space and now, a complementary range of Silka aluminium casements and a lift-and-slide garden door, to offer a suite of matching windows and doors in the unique Silka finish.
As well as its distinctive finish, at 50mm, the Silka window is set to offer one of the slimmest sightlines on the market for a double-glazed sash. With triple glazing though, the product is set to come into its own: as its designers believe that the window is the slimmest to offer triple glazing.
The profile thickness is 66mm. The aluminium foam-filled profiles are powder coated in the 60-micron-thick, fine textured 'Silka' finish as standard; marine-grade power coating is an option.
The window's thermal performance is set to improve on the building regulations' recommendation for double glazed whilst comfortably achieving an 'A' rating with triple glazed units. Colour options are to include anthracite grey or black with white internally.
Asa McGillian, Apeer's managing director, said: "When we developed the Silka finish it was for one or two door styles that would become part of our larger range. But it was so popular immediately with all door buyers, not just those with aluminium windows, that we had to ramp up production and add new styles.
"It's not lost on me, of course, the irony that we developed Silka to emulate aluminium and now we have a range of aluminium windows of our own. But this comes from demand, from significant numbers of homeowners asking if we supply aluminium windows to match Silka doors. We have obliged them."
The lift-and-slide door comes with a 144mm aluminium profile thickness, a standard or 25mm extension cill, 5-point locking and high-security Siegenia hardware. Heavy-duty rollers are good for 300 kgs, with thermal performance matching the Silka window.