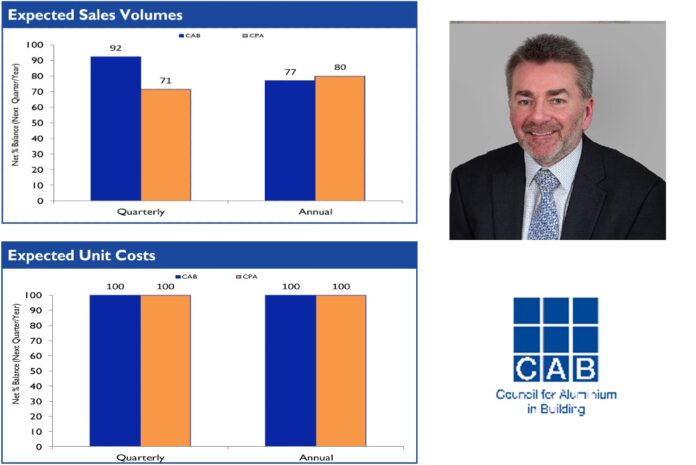 Historic sales volumes for members of the Council for Aluminium in Building (CAB) have doubled, on balance, over the last quarter, CAB's representative has reported, though the figures still fall slightly behind that of the wider construction industry. The council has also reported that expected sales volumes for CAB members, on balance, is at its highest on a quarterly basis, with 92% on net balance expecting an increase in sales in the second quarter of 2022.
Phil Slinger, CAB's chief executive, said: "Material shortages continue to dog the industry, coupled with higher costs which are particularly affecting the smaller businesses. The good news is that demand continues to be strong, with construction orders increasing by 9.2% in the final quarter of 2021 compared to quarter three 2021."
He added: "Whilst not at its highest over the last year, expected sales volumes for the year ahead is reported at a healthy increase of 77% on net balance of members. This closely follows the expected growth of the wider construction industry.
"Sales volumes quarter-on-quarter show a further slowing of growth for CAB members in the last quarter compared to 2021. Whilst still positive, members reporting sales volumes up by over 5% have halved over the year to 46% of reporting members. Sales volumes year-on-year are broadly positive, with only 8% of members stating sales had decreased over the last year.
"Confirmation, if any is needed, comes through clearly in the survey regarding historic and expected unit costs. On net balance, all members of CAB and the wider construction industry has incurred increased costs, and anticipates costs to increase further in the next quarter and the year ahead.
"Whilst raw materials remained at a high level during 2021, 92% of members in quarter 1 continue to suggest further increases. The first quarter of 2022 also shows that energy and fuel costs have further risen to match that of raw materials, closely followed by wages and salaries. These increases will no doubt continue to fuel increased building costs and lead to further pressure on inflation.
"The likely constraints on activity over the next 12 months data shows an improving situation over the last year, when 42% of members reported in Q2 2021 that material supply would be a constraint, now falling to 23% in the last quarter. Demand remains the highest likely constraint, as reported by 46% of the membership.
"The proportion of members reporting over 90% capacity utilisation peaked in Q3 2021 at 44% for the previous quarter and 50% for the previous year. This has fallen over the last quarter to just 23% for both the last quarter and year. It suggests a slowing of sales output which could be attributed to both the last quarters' storms and the shortage of materials. The wider construction industry is reporting 45% capacity utilisation, which would suggest new starts on site will eventually lead through to member sales.
"Expected capacity utilisation by CAB members is cautious, with only 38% forecasting over 90% for the month and year ahead. With the wider construction industry forward view also cautious, this could suggest a slowing in UK construction output.
"Labour costs remain at their highest level, with increases over the last year. 85% of all respondents on balance claimed future increases."