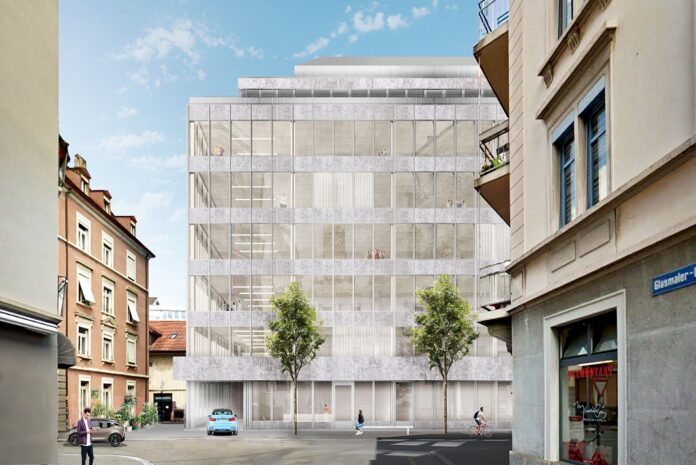 Swiss Prime Site has appointed Eyrise to support its environmental certification goals for a flagship sustainable building renovation in central Zurich. Eyrise is set to provide more than 3,000 m² of dynamic liquid crystal glazing for the external façade of the building, which comprises seven storeys and three basement floors. The total floor space is around 15,000 m², and is currently being converted into a modern office. 
The commercial block is located at Müllerstrasse 16/20, and will be occupied by Google once construction is complete in early 2024. Eyrise's key contribution will help the renovation meet both the Swiss Minergie standard for reduced CO2 emissions and SNBS sustainability criteria, the Swiss Sustainable Building Standard that covers the ecological aspect of construction alongside economic and social conditions of a building.
Proprietary Licrivision liquid crystal technology enables Eyrise glass to be tinted to provide instant solar shading without compromising on natural daylight. Eyrise is certified by an environmental product declaration and bears the CE mark.
The windows are manufactured entirely in Europe. The Netherlands-based production facility uses sustainable energy, allowing for both a shortened supply chain for customers in the same geographic region and reduced ecological footprint of materials.
"Dynamic glass from Eyrise combines certified, resource-saving properties with other advantages," said Urs Baumann of Swiss Prime Site. "The targeted control of the shading improves working conditions for tenants, which increases their wellbeing and should have a positive effect on productivity in the offices."