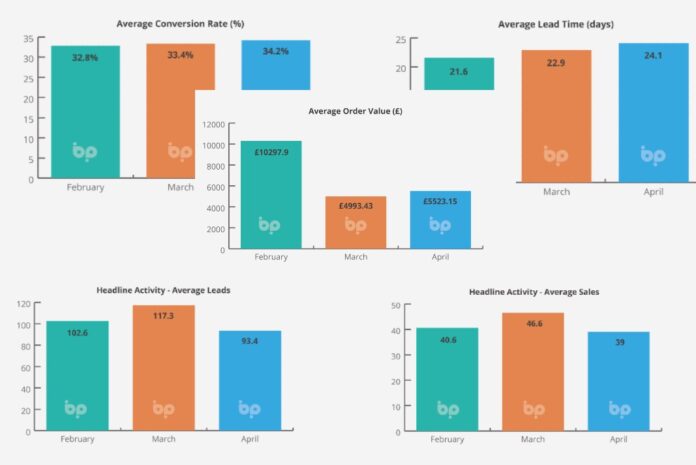 By Neil Cooper-Smith, Senior Analyst, Business Pilot
The Business Pilot Barometer offers monthly analysis of the key trends defining window and door retail. It draws on real industry data collated by Business Pilot, the cloud-based business management tool developed by installers, for installers.
We are seeing a slowdown. Average window and sales in April dropped 13% on March, while leads dropped by 20%.
The data is consistent with the lacklustre market that we have seen throughout the first quarter. And it's not unique to the window and door industry.
The Office for National Statistics showed that total retail sales volumes fell by 1.4% in April, month-on-month on March. This is a sharper drop than the consensus forecast of a 0.3% decline.
It follows inflation of 7% – the highest rate for 30 years – and has come amid the cost of living crisis, which is driven by everything from household energy prices and what we pay at the pumps through to increases in the cost of food and clothing. This wider context and the figures that we're seeing from our sector suggests that we're heading into a period where leads and new business certainly won't come as easily as they did last year.
For  example, compared to April 2021, sales are down 26%. Leads are down by almost 40%.
The million-dollar question is: Are we seeing a market correction? Are we simply getting back to 'normal', or are we on a slide to something far less comfortable (a downturn)?
House prices have never been higher. The Nationwide house price index was up 0.3% in April on March. The rate of annual house price inflation, however, slowed to 12.1% from the 14.3% seen in March, hinting that the housing market may be cooling or, perhaps more accurately, 'normalising'. If this is true for the window and door industry and it's moving back to a to a 'normal' state then, in a sense, it's no great shakes.
Pre-Covid analysts forecasted sustained growth of around 5% a year. Leads may not drop into your lap but at that level of market activity, they're certainly there to be won.
Despite the fall recorded in sales and leads, we saw a small uplift in the average conversion rate to 34% in April. Year-on-year average order values were also higher in April 2022, at £5,523 compared to £4,274 in April 2021 – an increase of 29%.
We'd estimate that, year-on-year, materials and operating costs are up anywhere from 20 to 25%. Glass, energy and polymer increases have been, and will continue to be, passed on to installers.
Unless you understand the cost of each job – that's the real cost, not simply what it used to be the last time you checked – you can't possibly know how profitable you are. In a tougher market, that will catch companies out.
With real-time financials including cashflow planning and profitability on each job, Business Pilot can help you see what's making you money – and where you're losing it. If you only understand that when you get to your year end, you increase the risk that it's too late. Understand it in real time, and you both minimise risk and increase margin.